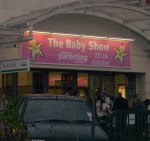 きょうは、オリンピアで開催中のBabyShowに行った。展覧会場にいろいろな企業が出展していて、あっちこっちのブースに並びフリーサンプルをもらい、実物のバギー(ベビーカー)を比較したりした。赤ちゃんや幼児を連れた家族でごった返していた。



うちは紙おむつで行こうと思っていたが、Jasonが急に布おむつにも興味を持ち始めた。確かに布おむつのデモをやっている所が多かった。布おむつといっても、パッドをはめて、それはトイレに流すので、思ったより簡単なのかもしれないから、まずは紙と布の両方試してみることになりそうだ。


バギーもノルウェー製STOKKEのXPLORYという素敵なのを見てしまい、ほしくなった。でも500ポンド近く(10万円)ぐらいする・・・。初めにいいのを見ると危険だ。他が目に入らなくなる。会場にはスリング(おんぶ紐みたいの)で赤ちゃんを運んいでる人を結構みかけた。両手は空くし、身動きが取れやすいのでバギーより便利な気がする。これで初めの数ヶ月を乗り切れば、新生児用のバギーはいらないから安上がりかもとも考える。難しい・・・。バギーに関してはJasonがいろいろ調べているので任せるかなあ。私は哺乳瓶やおむつを選ぼうか。



We went to the Baby Show at the exhibition centre in Olympia. There were lots of booths or areas of different baby and infant product manufacturers etc. We queued up at a couple of places to receive sample goods, like nappies, nappy wipes, baby food etc and we tested a few buggies. The place was packed with parents with small children.




We are thinking about using only disposable nappies but Jason has seemed to take interest in re-usable as well. Well, we saw a couple of companies demonstrating re-usable nappies. Babies anyway do not wear the re-usable directly but kind of pads are placed on the nappies and they can be flushed down the toilet. So it may not be as messy as we thought. We will probably try both disposable and re-usable.




After seeing a buggy 'XPLORY' from Norwegian manufacturer
STOKKE, we really wanted to have one. But it is quite expensive, about 500 pounds. When you look at a top quality product, it will become difficult to downgrade... very dangerous! I also saw quite a few parents carrying their babies using a sling. It looks quite handy as you do not need to push bulky buggies and both hands are free. If we can carry our baby with a sling in the first couple of months, we will not need a buggy for newborn and it will be much cheaper.... Jason is looking for baggies. I will let him decide on buggies, while I will chose bottles or nappies etc.