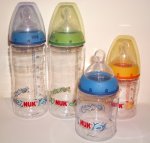 インターネットのPharmacy2U
で注文したNUKの
ボトル、150cc(シリコン乳首S付き) と300cc(シリコン乳首M付き)をそれ
ぞれ2本と、哺乳瓶・乳首洗浄ブラシが届いた。郵送費込みで約20ポンド
(4000円)。注文して2日で届いたからかなり迅速なサービスだ。


この哺乳瓶の乳首、確かに本物に近い形をしている。果たして赤ちゃんに気に入ってもらえるかしら。ところで、哺乳瓶のステライザー(消毒器)だが、Toshさんに聞いたところ、第一子の時は一生懸命消毒もしたが、第二子の時はほとんど気にしなかったらしい。どっちにしろ、赤ちゃんが動き出して、その辺に落ちているものを何でも口に入れだしたら、雑菌消毒も意味はない。哺乳瓶の消毒も初めの6ヶ月ほどだけらしいので、よっぽどお腹が弱い赤ちゃんでない限りステライザーを買うのはやめようと思ってる。たまに鍋で沸騰させて殺菌消毒すればいいかな。


そういえば、日本やドイツではガラスの哺乳瓶を推奨している。プラスチックだと、PVCなどの化学物質が溶け出しそうでガラスの方が安全だということだ。ところが、英国では、ガラスの破片がミルクに混入する可能性を重視するため、ガラスの哺乳瓶はあまりお勧めできないと言われている。その上、ガラスの哺乳瓶はほとんど市場に出回っていなく、普通のお店では売っていないのだ。なにやら、プラスチックがPolypropyleneという物質でできていれば安全らしい。




The NUK bottles I ordered on the internet have been delivered today. I bought 2 bottles each of 150cc and 300cc, all of which came with small and medium silicon teats, and one bottle cleaning brush. It's about 20 pounds with delivery charge. I only ordered them 2 days ago so it seems to be quite a quick service. I ordered them from Pharmacy2U.





The teats really look like the actual ones. Hopefully, our baby will like them. I talked about bottle steriliser with Tosh. He told me that they did use a steriliser for their 1st child but did not bother when they had the 2nd. In any case, it is recommended to sterilise bottles in the first 6 months only, and what's more, once babies start to move around, they will put anything into his mouth and 'sterilising' will be meaningless. We will do without it, unless our baby turns out to have sensitive stomach. Probably we will sterilise bottles in the boiling water from time to time.



As far as I know, at least in Japan and Germany, glass bottles are widely chosen. The reason is of course, the plastic bottles could potentially release some substance which contaminates babies. Interestingly, in the U.K., glass bottles are not recommended because of the possible risk of splinters chipping off into the milk. Anyway, glass bottles are not really available in the U.K. shops. It's worth checking If the bottles are made from 'polypropylene', safe plastic, but not including PVCs.