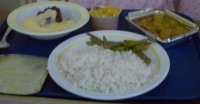 7時ごろ目がさめると吐き気は止まっていた。朝食のシリアルとブレッドを食べ、検尿のためトイレに行くが、まだふらふらしている。このまま動き続けるとまた気持ち悪くなりそうだから、もう少し寝ることにした。


助産婦と医者が回診して来たので目を覚ますと、Jasonもいつの間にか来ていた。もう10時過ぎだ。吐き気は止まったが、動くとまだふらふらする、ただ、昨日の昼から今朝の朝食まで何も食べていなかったので、そのせいかもしれないが、寝ていたので今はどうかわからないと伝える。今朝の医者も、原因がわからないので、まだふらふらするなら胎盤が剥がれている可能性もあるので、もう一日入院するようにと言った。それにしても、この医者は黒人のやはり外国人で、出産前クリニックのインド系の女医以上に英語が聞き取りにくい。血圧が低い。95-60.昨日病院到着直後は147-90ぐらいで一時的に高かったが、それ以降ずっとこんなもんだ。


さて、お昼は出るのかと心配していると、バッフェ形式のランチが用意された。驚いたのはインドカレーが選択肢にあること。病院でカレー?なんて思ったが、患者の半分以上がインド、バングラ系の移民の人たちだからなあ。私も迷わずチキンコマを食べる。昼食後しばらくすると、ふらふらが止まった。空腹からのめまいだったんじゃないのかしら?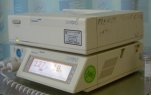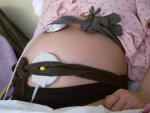 午後には赤ちゃんのモニター。このモニターは昨日もやったが、どうやら、朝夕晩の妊婦の血圧・体温測定同様、毎日のルーティンらしい。お腹に2本ベルトを巻かれ、集音器みたいのを当てて、赤ちゃんの脈拍を20分ほど測るのだ。器械からは心音がグラフになって出力される。うちの赤ちゃんは、このチェック時にとにかくよく動く。赤ちゃんの脈拍が150に到達した直後は常にぶるぶるってお腹が波打ち出すのだ。赤ちゃんが動いて脈拍が速くなる。


さて、夕方にはかなり元気になっていた私だから、もう帰りたかった。助産婦さんに退屈なんだけどって言ったけど、もう一日で帰れるわよと言われておしまい。軟禁状態でつらい。


When I woke up at 7 o'clock, I did not feel sick any longer. After having some cereal and bread, I went to the loo to take urine sample. I still felt a bit dizzy. I thought that I would feel worse if I kept being up and decided to have some more sleep.



I was woken up by a doctor and a midwife coming to my bed for checkup. It was already after 10 and Jason had been already siting next to me, which I did not know. I told the doctor that I did not feel sick but had still felt a bit dizzy in the morning, and that I had not eaten at all since yesterday lunch till breakfast this morning, I might feel better then but could not tell because I'd been in bed. This doctor was a non-British African and it was really tough to understand his English.... probably worse than my usual Indian female doctor's English at the Antenatal Clinic! Anyway, he also said that he did not know the exact cause but there may be a possibility of the placenta peeling off. He decided to keep me another night. My blood pressure was very low, 95-60 this morning. It's been like this since I admitted to hospital except for the time I just arrived, it was 147-90.



I was a bit hungry and wondered if we were fed. Yes, there was buffet style lunch and surprisingly, there was a choice of Indian curry, Chicken Korma! Curry at hospital? Most of the patients in the ward were Indian or Bangladeshis so this was quite understandable. After having lunch, my dizziness worn off. Was it not the dizziness caused by lack of food?



In the afternoon, I had another baby's heart monitoring. This must be a part of the everyday routine in this ward, like mothers' temperature and blood pressure checks. 2 belts are tied around my bump and small sound-picker devices are attached. The devices are connected to a box of sound amplifier and printer. While being monitored, baby's heart rate is being printed in the form of a line graph. Our baby is always so active during this routine monitoring. He keeps moving for nearly the whole 20 minutes. Usually just after the heart rate reaches about 150, my bump starts to make a couple of big waves!



By the early evening, I felt much better and I wanted to go home. I told a midwife that I felt so bored but she just said I would go home tomorrow. It was as if I had been under 'house arrest'....