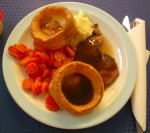 昨晩はシャワーを軽く浴びたので少しリフレッシュしたが、ほとんど具合が悪くないのに昼間眠るから、夜は寝付けなかった。4時ごろに目が覚めて、Jasonに持ってきてもらった本を2冊読破。この病棟には予定日を過ぎてしまっていて、インダクションの為に入院している人も数人いる。病棟のどこからか妊婦のうなり声が聞こえる。もう少ししたら分娩病棟に移動して出産する人もいるだろう。また、常に赤ちゃんのモニターチェックをしている人がいて、BGMのように、心音が必ず聞こえている。Jasonは「ここにいるとなんだか眠気が襲ってくる」って言っていたが、多分、赤ちゃんの心音が心地よいのだろう。



明け方の6時ぐらいから赤ちゃんのモニターチェック。朝食後少し眠る。Jasonが10時頃来てくれたが退屈だ。今日は医者の回診が遅く、退院許可を出してもらうのに、1時過ぎまで待つ羽目になった。ふぅー。まあ、おかげでランチも食べられたけど。今日は日曜日だから、ローストビーフ、「サンデーロースト」だった。さすが英国!そういえば午前と午後に一回ずつ、ティータイムがあり、紅茶・コーヒーとビスケットにありつける。



さて、結局のところはっきりとした原因は分からなかったが、私とJasonの分析では、脱水症状と血糖値が下がっていたのがめまいの原因で、めまいのため、吐き気がしたのではないかなと思う。この一週間、会社では緊急解決しなければならない問題があり、結構ストレスがたまっていた。その上、金曜日は、まともなランチを取らず、水も飲まずに午後は集中していたのだ。そして、オフィスが結構暑かった。赤ちゃんに影響がなくてよかったけど、気をつけないと。


I was refreshed after taking a shower last night. But I could not sleep well as I was mostly in bed yesterday even though I was not feeling that bad. I woke up at about 4 am this morning and finished 2 books Jason brought in for me.



By the way, there are a few mothers who are here for induction. I could hear somebody's groaning form somewhere in the ward. There is always at least one baby's heart monitor being operated and we can hear baby's heart beat like some kind of BGM. Jason said to me, 'I become sleepy being here.' Probably baby's heart beat has some soothing effect?



My baby's heart rate was monitored early in the morning, at about 6 am. After breakfast, I had some sleep. Jason arrived at about 10 but I felt so bored. I wanted to get out! For some reason, doctor & midwife checkup did not come to my bed till 1 o'clock. Was it a blessing in disguise? Because I had nice lunch, Sunday roast!! Very British! Actually, we have tea & biscuits served once in the morning and afternoon as well.



I was discharged in the afternoon. Doctors did not come to any conclusions about the exact cause. Jason and my guess was like this..... the dizziness was caused by dehydration and low sugar count, which then triggered feeling sick - motion sickness type. I'd had a quite busy week at work and I may have been under stress. In addition, office was quite hot on Friday afternoon but I did not even get up from my desk to have water or tea. I also had a quite light lunch, and probably, out of stress, I grabbed 3 packets of crisps one hour before I started to feel dizzy - sudden high salt intake. It was lucky that our baby was ok but I have to be more careful....