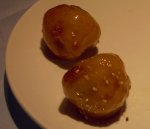 最近トフィバナナが無性に食べたくなる。だいたい中華レストランのデザートメニューでしかあまり見かけないのだが、あれば必ず注文する。それもバニラアイス付きで!トフィバナナやトフィアップルは、衣をつけて揚げたバナナやりんごに、カラメルをまぶして少しカリカリっとさせた暖かいデザートだ


通常は甘いものや脂っこいものはあまり好きではない私。てんぷらと湯豆腐なら湯豆腐、ポテトチップとチョコレートならポテトチップ、トフィバナナとオレンジシャーベットならオレンジシャーベットを「迷わず」選ぶのが私なのだ。それなのに、妊娠後期に入ってからと言うもの、全く逆の選択になった。この私がチョコレートやドーナツを食べたがる。



確か妊娠初期には、キムチばかり食べたくて冷蔵庫にいつも常備していた。でも今は特に食べたいとは思わない。甘いもの、脂っこいものも単なる妊娠中のクレイビングで、出産後は元に戻ってくれると思うが。味覚が変わってしまったらデブ路線まっしぐらだ。


I have a craving for Toffee Banana. We usually only see it in dessert menu at Chinese restaurants but whenever I find it, I order one. And of course, with a scoop of vanilla ice cream!


I usually do not like sweet or oily food. If the choice is between Tempura and Tofu pot, I choose Tofu. Between crisps and chocolate, I choose crisps. Between Toffee banana and orange sorbet, choose sorbet. Without any hesitation! Since my pregnancy entered into the 3rd trimester, I've started to choose the completely opposite. I crave for chocolate or doughnuts.



In the first trimester, I had a craving for Kimchi. But I do not have any more feelings for Kimchi now. I hope my love to sweet or oily food is just a craving during pregnancy and I will go back to the normal me. If my taste has been totally changed, I will not be able to avoid getting fatter...