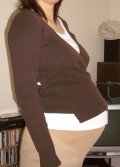 今日から臨月。会社にお腹が目立つ服を着て行ったが、今日になって初めて「あれ、妊娠してたの?」って気がついた、それも3人に、声をかけられた。


きのう、GeorgeとSueに会ってきた。ジョージは私が10年以上前、ブリストルに留学していた時のフラットメイトの一人。あの頃、「マレーシアンハウス」と呼ばれていた、主に中国系マレーシア人でシェアしていた2軒続きの家の一部屋を、私は1ヶ月80ポンド(16,000円ぐらい)で借りていた。ジョージにはその後シンガポールで会ったが、スーとは13年ぶりぐらい。2人には3ヶ月前に生まれた男の子がいる。シェアしていた頃を髣髴させる、ジョージのおいしい手料理をご馳走になり、子育てについていろいろ話しを聞いた。3,4ヶ月違うだけだけで大先輩なのが妊娠、出産、子育てだろう。


さて、昔のフラットメイト達の話しにもなった。Ting は4月に女の子のお父さんになった。Arthur の所は、10日程前に2人目の男の子が産まれたそうだ。Georgeと私も含めると、あの時シェアしていた面子の4人もが同じ時期に赤ちゃん誕生を経験するってことだ。


Jason の同僚や元同僚もここ数ヶ月の間に2人がお父さんになると聞いたし、グラハムとニックの奥さんもこの時期続けて出産する。


子供達はみんな同級生だ。ただ、よーく考えると、私だけ女で、みんなより年がちょっとだけ上。これが、私の女友達で同じ時期に出産する人が全然見当たらない理由かしら?


はぎちゃんのリクエストに応えて、臨月になったお腹の写真を公開!


I'm now in the last 4 weeks of pregnancy. Surprisingly, 3 people from Sumitomo have just realised I was pregnant today!




We went to see George and Sue yesterday. George was one of my flatmates when I was in Bristol in the early 90s. I was sharing a house in the 'Malaysian Houses', which were 2 adjasoned terraced houses where mainly Malaysian Chinese students were staying. I only paid 80 pounds per month! Anyway, I saw George once about 10 years ago in Singapore but I haven't seen Sue for more than 13 years. They have a 3 month old baby boy. George cooked nice meal, which reminded me of the time in Bristol, and they gave us loads of tips about new babies. Only a couple of months ahead makes very experienced parents!




We were also talking about our old flatmates. Ting has a baby girl who is about 6 months old, Arthur has his second son born only about 10 days ago. Including me and George, 4 of us in the 'Malaysian Houses' have new born babies at the same time.




In addition, a couple of colleagues (and ex-colleagues) of Jason will also become a father soon. Graham and Nick as well.




All of our children will be in the same school year. Wait... actually, I am the only female and I am a bit older than them. Is this the reason I can not find any female friends who are expecting a baby now???



Upon request of Hagichan, here are my bump photos!