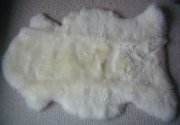 また大きな小包がニュージーランドから届いた。Jasonママからだ。中には、ラベンダーの刺繍のある赤ちゃん用のタオルやニュージーランド毛糸を使った赤ちゃん用毛布、そして、シープスキン(羊の皮)のラグが入っていた。


ニュージーランドには人口の10倍の羊がいる。そういえばシンガポールに住んでいた時、イスラム教のお祭りで、大量の羊をその場で屠殺して神様に捧げる場面を目の当たりにしたことがある。囲いに羊がたくさんいたが、シンガポールに羊いたっけ?と思っている私に、あれはみんなニュージーランドから輸入されるんだと友達が教えてくれたことを思い出した。


とにかく、シープスキンの上に赤ちゃんを寝かせておけば、赤ちゃん用のジムなんていらなそうだ。彼は、半分ニュージーランド人なんだし、早くから羊と仲良くなっておいたほうがいい?



We received another big parcel from New Zealand. It's from Jason's mum. She sent us a couple of towels with beautiful lavender embroidery, a blue baby blanket made from New Zealand wool and a sheepskin rug!




There are 10 times more sheep than human beings in New Zealand. When I was still working in Singapore, I once happened to be in a Muslim festival, which involved slaughtering sheep as preys for god. There were lots of sheep in a couple of small enclosures in a park. I wondered if there were any sheep in Singapore?? One of my friends told me that they were imported from New Zealand.....




Anyway, we do not need to buy a baby gym. We can put the sheepskin in the sitting room and lay our baby on it. After all, he is a half New Zealander and it isn't a bad idea to get him familiar with sheep in the early stage?