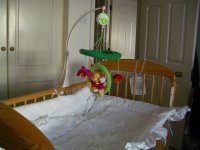 昨日、使わなくなったベビーベッドをもらいに、としさんの家まで行った。彼の所はちょうど引越し準備中で、その他にも必要なくなった服やおもちゃから歩行器までいろいろいただいた。買おうかどうか迷っていた、ベビー用バス、哺乳瓶の消毒器、おんぶ紐などももらえてラッキー!


今日は Canada Water の
Mothercare
に
Bounty
の'Mum to be' パックをもらいに行ったが、50ポンド以上の買い物をすると5ポンド割引バウチャーがあったので、ブランケットやおむつ換えマットなどの小物と一緒に、ベッドにぶら下げる、くまのぷーさんのオルゴールのついたモービルを買った。Jasonはかなり前から、モービル買わなきゃと言っていたような気がする。以前、赤ちゃん服を買った時もそうだったが、私は実用的なものにばかり目が行って、あまりファンシーな物が目にはいらないのだが、これってパパとママの本能的な違い?


We went to Tosh's yesterday to get the cot that they don't need any longer. They are in the middle of moving houses, and they gave us lots of other stuff including baby's clothes, toys and toddler's walking aide. We were quite lucky because we got a couple of which we had been indecisive to buy: baby bath, bottle steriliser and a sling.


This afternoon, we went to
Mothercare
in Canada Water to get a 'Mum To Be' pack from
Bounty. As we had a 5 pounds off voucher if we spend more than 50 pounds, we bought a mobile with Winnie the Pooh music box, together with a baby blanket and a changing mat. This mobile is to hang above baby in a cot. Actually, Jason had been talking about buying a mobile for a while. It's quite interesting that I rather put higher priority on more practical things while Jason seems to go for fancy stuff. This tendency started to happen when we chose baby clothes a couple of weeks ago. Is this something to do with the difference between maternal and paternal instinct?