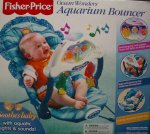 出社最後の日。それなのに昨日も今日も残業の忙しさ。E-mailのOutOfOffice設定すらする暇なし。ただ、気になっていたフランスの問題の見通しがたったので思い残すことなく産休に入れそうだ。


さて、今日は同僚からプレゼントをもらった。新生児用バウンサーとスリング。バウンサーは電池仕掛けで赤ちゃんをのせてスイッチを入れると音楽が流れたり椅子がバイブレートする。Sex And The City でミランダの赤ちゃんが泣き止まない時に、バウンサーに座らせたらおとなしくなるっていうエピソードがあったが、それを見て以来ほしかった。スリングはMothercareの新生児から10KGまでOKなもの。どうもありがとう!!!


きのう残業していた時にカティに「何かほしいものある?」と聞かれていたのでみんなからプレゼントもらえることはわかっていたが、まさかスピーチをするとは思わなかった。大概会社を辞める時に、プレゼントをもらってスピーチをするけど、産休の時まで??準備していなかったため10秒ぐらいでたいしたことも言えなかった・・・。でも、出産後すぐに次を妊娠したらまたやるの?ひんしゅく買いそう。



The last working day. But I had to work over time not only yesterday but also today. I did not even have time to turn on 'Out of office' settings for my e-mail accounts. Well, at least, the problem at one of the offices in France that I've been concerned about for a long time looks nearly solved before my maternity leave starts, which is such a relief.



I've got some presents from my colleagues. They are a bouncer and a sling. This bouncer is operating with battery. Putting the baby in it, and switch it on. The chair starts to vibrate and music starts to play. Since I saw the 'Sex and the City' episode, in which when Miranda put her non-stop-crying baby on a bouncer, he stopped crying, I've wanted to have one for my baby. The sling is for newborn to 10kg baby. Thank you very much!!



Kati yesterday asked me if I have something I need for our baby. And I knew I will get some presents today. But I didn't expect I was going to be asked to make a speech. Usually in our office, when someones leaves work for good, he/she gets some presents and make a speech but I really didn't know 'speech' applies to me who leaves for maternity leave. As I didn't prepare anything, my speech was just off the cuff. Probably only lasted for 10 seconds. I could not say anything cool.... Anyway, if I get pregnant again soon after my first child, am I going to get some more presents and have to make another speech? I don't think they will like it......