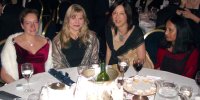 住友商事のクリスマスパーティーが、Oxford Circus の The Langham Hilton Hotel であった。うちの会社は去年から住友のクリスマスパーティーに便乗しているが、その数年前から住友のIT部に派遣されている私にとっては4回目の住友のパーティーだ。


住友のパーティーの目玉はなんといっても、プライズドロー。毎年、一等が日本行きペア往復航空券。私もこのために今日はパーティーに行ったようなもの。他にもクリスマスハンパーや電化製品、お食事券、今年は薄型テレビもあった。今まであたったためしがない私だが、やっぱり今年もハズレ。まあ、しょうがない、こんなところで運を使っても。あ、そうそう各テーブルに一人ずつ当選者がいる特別賞は当たった。菊レストランのペア懐石お食事券100ポンド相当。一月に母が来ている間に、赤ちゃんを見てもらってJasonと行こうと思う。


「クリスマスパーティまでは参加します」って日本人上司達に言うたびに驚かれていたが、私のテーブルにはもう一人妊婦がいた。彼女は同僚の奥さんで12月18日が予定日だって言っていたから、私より2日早い。もうこれで誰も何も言えないだろう。元気なら行くってのが英国風らしい。



Went to Sumitomo Corporation's Christmas party at the Langham Hilton Hotel near Oxford Circus. Our company, SCS, have joined Sumitomo's party since last year. Actually for me, it's the 4th Sumitomo's Christmas party as I've been doing work for Sumitomo since long before.



The biggest attraction at Sumitomo's party is the prize draw. Every year, the top prize is pair return tickets to Japan. I went to the party this year hoping to win the tickets! Apart from air tickets, Christmas hampers, electric appliances, dinner tickets etc. The second prize this year was a thin TV. I've never won any prize, and I didn't, either this year. I won a special prize, though. One person in the same table could get a dinner ticket for 2. And I won it. It's at Kiku Japanese restaurant and worth about 100 pounds. While my mum is here, Jason and I will be able to go.



I kept saying, 'My last day is actually on the day of Sumitomo Christmas party,' to my Japanese bosses and they often got surprised to hear that. Well, there was another pregnant woman at the same table. She is a wife of our colleague and she is expecting a baby on the 18th, 2 days earlier than me. Now nobody can say anything! I think you go out as long as you feel ok is the British way?