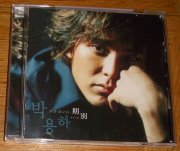 今朝起きると昨日仕掛けておいたパンが焼き上がっていた。毎週末パン焼き器でパンを焼いているが、もっぱら担当はJasonでいろいろ凝ったパンを焼く。私の誕生日プレゼントだったはずだが、やっぱりパートナーへのプレゼントは自分がほしいものを選ぶのが鉄則?


今日は予定もなくのんびりと過ごした。パク・ヨンハのCD「期別」を聴きながら、ズベリー葉茶を飲み、ベイビーブランケットを編んだ。


日本語でコメントが投稿できるようになりました。


We were woken up by the beep from our bread machine this morning. We bake bread every weekend but Jason is the main person in charge. He bakes lots of different type of bread and always very nice. The machine was my birthday present from Jason but I have not touched much. It's a golden rule to chose something you want as a present for your partner?


We did not have any plan today and we spent time relaxing at home. Most of the afternoon, I was knitting a baby blanket listening to Korean heart-throb, Pak Yonha's CD and drinking raspberry leaf tea.


You can now enter comments in Japanese.