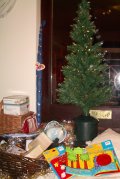 ミュンヘンのビルギットから、出産祝のプレゼントが届き、うちのクリスマスツリーの周りもかなりにぎやかになった。


さて、今朝も兆候なし。会社の携帯電話緒を返すため、Toshさん達とのランチアポにJasonと行く。Mansion House駅そばのタイレストラン。Edちゃん、Kati、たくとくんも来ていて、久しぶりにみんなとおしゃべりができて楽しかった。


注文したサラダ、唐辛子が大量に入っていて辛かった。出産予定日を過ぎても生まれない場合は、スリーエイチ(3H)の「ホット(Hot 辛い)カレー、ホット(熱い)風呂、ホット(情熱的な)セックス!」 が効くっていうけど、辛い唐辛子がもしかしたら効いて今晩あたり出てくるかなあ。


その後カナリーワーフで買い物。つい、またKrispy Kreameのドーナッツを食べてしまった。


Birgit sent us a present from Munich. This year, our tree is surrounded by lots of presents. Really nice!

Still no sign. Jason and I went to a Thai restaurant near Mansion House station for lunch to see Tosh to return the company mobile I'd been given. Ed, Kati, Takuto were also there and I had a good time chatting with them.


The salad I ordered was really hot with loads of chilli. It's said that 3H (Hot curry, Hot bath and Hot sex) are good if the baby is overdue. Hot chilli salad may work. Let's see if the baby pops out tonight!


We then went to Canary Wharf, and.... had some Krispy Kreame....