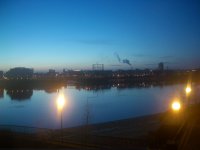 今日はボクシングデー(クリスマスに働いたサーバントなどにプレゼント、ボックス-箱-、をあげていた日)。ボクシングデーは英国やニュージーランドでは国民の祝日。Jasonはしきりに、昨日赤ちゃんが生まれるのを嫌がっていた、クリスマスと誕生日が一緒じゃあプレゼントが半分になるからかわいそうって。でも、もう41週だし、今日なら生まれてもいいなあって思ったが多分時間切れ。


昨日はラズベリーリーフティーを大量摂取、散歩もしたけど効果はなかった。今朝、4時と7時半の2回、空腹で目が覚める。お菓子をたくさん食べて寝たのにこれだ。1回目に起きた時は、下腹部痛があったので、やった!と思ったが、それっきり。さすがに、もう切れそう。明日の誘発、やっぱり行って終わりにしようか。まさか陣痛を待ち望むことになるとはね。


昨日のクリスマス、ロンドンは普通の冬の日だったが、アイルランド、スコットランド、北イングランドでは雪が降り、ホワイトクリスマスになった。今日は昨日以上に寒くてますます快晴。7時半に目が覚めた時は日の出直前で、テムズの川面が穏やかできれいな朝だった。今日はJasonとやはり片道40分かけて、タワーブリッジまで歩き、ホテルのラウンジでコーヒーを飲んで帰ってきた。


ところで、インドカレーが効くのは、インドカレーのスパイスが腸の活動を活発にし、お通じをよくするかららしい。どうやら腸が空になると、陣痛を誘発するみたいだ。今日の夜はインドカレーかな。



Boxing day. Jason didn't want the baby to be born on Christmas day, because it'd be pity if he only got one present for his birthday and Christmas. We think today is not too bad, but probably time is running out.

Plenty of raspberry leaf tea and walking didn't work. I thought it had worked when I had a stomachache early in the morning. But it was another false alert. I woke up twice last night, at 4 and 7.30, because I felt sick from hunger. I had lots of sweet before going to bed and still got hungry so quick! I've started to feel 'I've had enough!' I'm not that patient. Shall I go ahead with the induction appointment tomorrow and will end this ordeal? I've never thought I would be looking forward to contractions so much!


It was white Christmas in some of the regions in the U.K. yesterday. In London, it was another winter day. Today, it's been much colder but the sky has been much clearer. When I woke up at 7.30 this morning, just before the sun rose, the river Thames was so calm and the sky was beautiful. We went for a walk around noon to Tower Bridge. It was again about 40 minutes walk one way. Had some coffee there and came back.


By the way, the spices in Indian curry help to empty bowels, which stimulates contractions. Well, contractions tend to start when the bowels are empty? We'll probably go to eat Indian curry this eve.