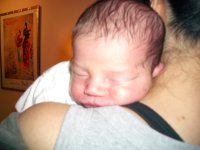 昨日、母乳授乳クラスへ行った。産前母乳ワークショップの時の助産婦さんがこのクラスも担当。私以外に5人の新米ママ。みんな同じような悩みを抱えているんだなあということで、ちょっと気が楽になる。授乳用ピロウを使わない母乳のあげ方、赤ちゃんを肩に持ち上げてげっぷさせる方法を個別に指導してもらえて少し自信がついた。写真はげっぷをさせている図。猿顔になっていてちょっとかわいそう・・・。


それにしても母乳授乳には泣かされた。まず、帝王切開3時間後の麻酔も切れずにふらふらな時に「初乳が赤ちゃんには大事だからおっぱい上げて」と言われる。大体、ふにゃふにゃした赤ちゃんを抱くことすら怖かったから、私の最初の質問は「どうやって赤ちゃんを抱くの?」


病院に入院していた2日半、おっぱいを上げてはみるが、ミルクが出ているかもよくわからない。アラタは1時間近くおっぱいを吸っているのだが、そっとベッドに置くと火がついたように泣き出す。しょうがなく、術後の傷の痛みに耐えながらナースステーションまでボトルをもらいに行く、の繰り返しだった。いろいろな助産婦さんに同じ質問、「どうやって飲ませるか」を何回もしてみるが、なかなかポジショニングがうまくいかない。夜はベッドの周りのカーテンをきっちり閉めて、上半身裸になってあげてみたりもした。


退院後は、昼でも上半身裸で授乳の「練習。」うちのリビングからはテムズ川しか見えないからと、大胆になっていたけど、テムズ川クルーズ船の観光客が精度のいい望遠レンズで覗いていたら丸見えだろうな。それでも、30分上げてもアラタは泣きだすの繰り返し。長く強く吸われるから乳首が割れて痛くて、その上、産後のべいびーぶるーも重なって、泣きながらJasonに当たったりもした。後一押しで、母乳は諦めるところだった。結果的には、Jasonのしぶとさのおかげで、100%母乳が確立できたってことだ。出産後5日目ぐらいから急に母乳が流れだしたのだ。


後から調べたら、自然分娩で3日、帝王切開で5日後ぐらいから母乳の量が増えるらしい。通りでね。その前は全然出ていなかったからアラタもお腹をすかせて、長く強くおっぱいを吸っていたのだ。おっぱいが出だすと、胸が張るほどになり、搾乳ポンプで絞る必要もでてきた。搾乳されておっぱいがぴゅーぴゅー出ている自分の胸を見ると、牛になった気分だ。


母乳が出だすと次に困ったのは、げっぷをさせられないってこと。膝の上に座らせて背中をさするのは首がふらふらして怖い。肩に担いで背中をたたくのは、肩に担ぐこと自体怖い。結局いつもJasonに任せるのだが、夜中に授乳した後は、げっぷをさせないと寝ている間にミルクを吐くので、気管に詰まらせてしまうのが恐怖になってなかなか寝られず、けいこやかなりの数の友人にアドバイスを求めたがかなりのトラウマになった。3週目になって、アラタが少し大きく、筋肉もついてきたから、前ほどふにゃっとしなくなったっていうのが大きいけど、今日のクラスで個別指導を受けたのが役に立ったようだ。アラタを担ぐと、すぐにげーっとげっぷをしてくれる。


次の目標は、外でおっぱいを上げられるようになること。


Went to a breast feeding class yesterday. There were 5 other 'new' mothers there. Getting to know that they also have similar worries and problems made me feel a bit easier. The midwife taught me how to breastfeed without using a nursing pillow and how to wind, personally in a separate room. I feel much more confident now. The photo was taken when I was winding Arata. He looked like a monkey....


It was not an easy start for me. Just 3 hours after the Caesarian operation, I was asked to breastfeed Arata, for the benefit of the first milk to baby. But I did not even know how to hold a new born baby. Arata was really wobbly... My first question to midwife was, 'How can I hold the baby?'


During my 2 and half day stay at hospital, I tried hard to breastfeed him. I had no idea if any milk was coming. Arata would keep sucking my breast for nearly one hour but as soon as I put him in the cot, he started to cry. I then had to walk to the nurse station to get a bottle of milk. I was still in a great pain of the cut from Caesarian operation..... I kept asking the same question to every midwife, 'How can I hold the baby to feed him?' At night, I even took off my top and tried to feed him.


After I came home, I always became half naked to breastfeed, even during day time. Well, from the windows of our living room, we can only see the river Thames. Probably some tourists on a Thames river cruise could catch a sight of my breasts! Never mind! Even I tried that hard, 30 minutes after Arata sucking breast, he still seemed not happy and cried very hard. He sucked very strong for long and my nipples became cracked, which was really painful. Once I was literally crying and complaining to Jason, 'Why are you forcing me to do this!!' He later told me that he thought it was a part of my 'baby blues'. No! It was really hard for me!!! I was about to give up breastfeeding but it was Jason who was patient enough to encourage me to keep doing. Thanks to Jason, I am now 100% breastfeeding Arata. From about the 5th day of the birth, breastmilk suddenly started to flow.


I later learnt that about 3 days after normal birth and 5 days after Caesarian birth, the milk start to flow. I see... I'm now quite sure that there was not much milk before and that's why Arata was sucking so strong for a long time. He must have been really hungry. Once the flow has started, my breasts sometimes become so full and I have to use a breast pump to express some milk. Looking at my breasts being expressed is quite amazing. I can understand cow's feeling now.


I had another problem. I felt really scared to wind baby. It's simply because baby was too wobbly and I felt so frighten to hurt him by holding him to wind. I always asked Jason to wind Arata but during night, I had to do that by myself. If I didn't wind him, he vomitted a bit of milk during sleep, which made me feel so scared... I thought he was going to choke one day.... I asked so many friends for advice. It was really a trauma for me. Arata is now 3 weeks old and day by day he is getting stronger and he is now not as soft as before. Probably that's the main reason why I feel less scared now. In addition, breastfeeding class I attended yesterday was so helpful. I can now put him on my shoulder to wind. He usually makes a big burp as soon as I put him that high position!


My next objective is to be able to feed in public!