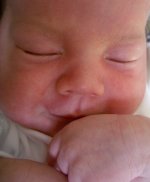 一週間ほど、アラタの鼻くそが気になっていた。左の鼻の入り口にあったのは、すぐ取れたのだが、右のは結構しぶとくくっついていた。アラタは鼻が詰まっているような呼吸をするので、こいつのせいだ!と思っていた私は、ティッシュや、綿棒、小指などで取ろうとするのだが、取れない。日本から来ている母には内緒で(ばれたら絶対に「危ない!」って怒られるから)毛抜きや耳掻きでもちょっとだけトライしてみたがだめだった。まあ、放って置いても問題ないのだが、毎朝、明るい光の下でアラタを見る度に、鼻の穴の中が気になるんだもの。ところが、昨日のぞくと、ない!アラタがくしゃみをした時にやっと取れたのだろう。部屋のどこかに落ちているはずだが、鼻詰まり呼吸は一向によくならない。


写真はおっぱいを飲んで満足気なアラタ。


I've been annoyed by Arata's snot for a week. The one in the left came off easily but the right one has been quite persistent! He breathes as if he has a blocked nose. And I've been convinced that it's because of the snot! I tried to get it out with a piece of tissue or a cotton bud or my little finger... but in vain. I even tried with tweezers or bamboo ear cleaning picker; behind mum's back because mum would have told me off saying it's dangerous if she'd seen it. Nothing has worked. It's totally ok to leave it, but every morning, when I hold and look at Arata in the sunny living room, I can't avoid seeing the snot.


I looked into his nose as usual yesterday morning. Oh my god! It was gone! Well done, Arata! He must have sneezed it out. Now, the sticky snot must be stuck somewhere in our flat and his breathing hasn't improved, though...


Arata is so happy after being fed in this photo!