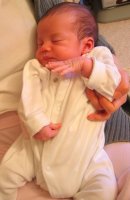 ===== パート 2 入院から退院まで編 =====


帝王切開から2日半で退院。さすが、イギリス!税金の無駄遣いはしない?


12月28日午前2時半

帝王切開から2時間強しか経っていない。まだ麻酔のせいで体中の振るえが止まらないのに、赤ちゃんに母乳をあげるように言われる。「赤ちゃん、どうやって抱くんですか」と、おろおろする私。おっぱいの上げ方なんて全くわからないが、とりあえず吸わせる。生まれて数時間の赤ちゃんのくせに、おっぱいの吸い方を知っているからすごい!おっぱいなんて出ていない気がするんだけど、出産直後の初乳でお母さんの免疫を上げられるので一滴でも飲ませるといいらしい。結局、その後、助産婦がボトルでミルクを上げていたようだが私は朝まで熟睡。


12月28日

朝6時過ぎ、膀胱に入れられていた管を抜かれ、バスルームで下半身を洗うようにと言われる。術後6時間で、もう歩くの?と思ったが、意外とOKだった。朝食の食パン2切れと紅茶は、やっとありつけた食事。空腹だったのであっという間に平らげる。10時からの面会時間にJasonがやってくるが、私は今日はどんな姿勢でも、気がつくと寝ていた。「母乳で育てる気なら、しつこくおっぱいを上げ続けること。出産直後の赤ちゃんは24時間ぐらいミルクを飲まなくても大丈夫」と、出産前クラスで習っていたのでその通りにしていたが、助産婦の指示でJasonがボトルを上げるとごくごく飲んでいた。私は赤ちゃんを抱くのも、ふにゃふにゃしていて怖いのに、Jasonはなぜか慣れた手つきだ。おむつを取り替えると、ウンチは黒い粘土のような胎便だ。夜にもしつこく母乳を与えてみる。吸っている時間は長いが、口をはずすと大泣きするから、多分母乳は出ていないのだろう。そのたびに赤ちゃんを泣かせたまま、まだ痛む手術の傷をかばいながら、ナースステーションにボトルをもらいに行く私。かなりつらい。この夜は、ボトルを上げるとごくごく20ML飲み、その後3時間半ほど熟睡していたようだ。赤ちゃんは健康なため、この日で退院(Discharged)したが、私がまだなので一緒に病院に泊まり続けている。普通分娩ならお母さんも一泊で退院が一般的だ。


12月29日

回診に来た医者が、帝王切開の傷口の絆創膏をもうはがしたのにはびっくりしたが、剃毛もせずに、毛が生えてるところをばさーっと切ってあったのには正直、驚いた。今日も、両方の胸を、20分以上ずつ吸わせた後、泣き止まないため、ボトルを与えるの繰り返し。一度は、50MLぐらい飲んだ後に、5時間ぐらい熟睡していたからかなり空腹だった様子。さて、授乳がいまいちうまくできないから、前開きパジャマを着てみたり、ベッドの周りのカーテンをぴっちり閉めて、上半身裸になってトライもした。後から思うと、やはり母乳が出ていなかったようだ。普通分娩で3日、帝王切開で5日後ぐらいから母乳の量が増えるらしい。まあ、しつこく吸わせたおかげで、少なくとも、初乳はかなり与えられたはず。今日は、赤ちゃんの足の関節のチェック、聴覚のチェックなどをしたが、全てパス。病院食は覚悟していた通り(妊娠中に入院した経験から)、毎日インドカレー。味気ないイギリス料理よりはましだと思うけど、病院でカレーなんて素敵!


12月30日

退院。帝王切開後2日半だ。こんなに早くていいの?なんて思うが、何でも自分でやらなきゃならない病院より、家に帰ってJasonに手伝ってもらった方が楽かも・・・。

===== Part 2 - Staying in hospital =====



I was discharged just 2 and half days after the Caesarian operation. NHS never waste money on free medical services!


28/12/04 2.30 AM

It's been just over 2 hours after the operation. I still feel shivery and my body is still shaking. But I was told to give breastmilk to Arata. I don't know how to do it and ask a midwife, 'How can I hold the baby?' I anyway manage to hold the baby and put a breast into his mouth. I was quite amazed to see how my baby can suck breasts less than 3 hours after birth. I don't think anything is coming out from my breast but the first milk, Colostrum, is very important to the new born baby. It's rich in antibodies and even a drop is good. A midwife gave a bottle to Arata afterward. I was fast asleep till the next morning.


28/12/04

At 6 AM, the tube inserted to my bladder was taken away. I was asked to go to the bathroom to wash myself. Do I have to walk on my own just 6 hours after a major operation, I thought, but it wasn't so bad. I had 2 slices of bread and a cup of tea for breakfast. I was so hungry because I hadn't had food for more than 18 hours. Jason came to the hospital at 10 AM. I was sleeping all day. We were taught at an antenatal class that we shouldn't give bottles if we are determined to breastfeed baby, and baby wouldn't die even if he doesn't get any milk for 24 hours. So we didn't give a bottle to Arata, until a midwife suggested us doing so. When Jason finally fed Arata, he was sucking the bottle very enthusiastically. I still feel scared to hold the wobbly baby but Jason seems to be ok, very confident. Changed nappies. He did very dark sticky poo. When I was giving breastmilk to Arata in the evening, he was sucking for a long time but once he released his mouth, he started to cry loudly. Probably nothing was coming out from my breasts. I then had to walk to the nursing station to get a bottle. This became a routine during my stay there. The cut from the operation still hurt but I had to walk through the corridor all the way.... Anyway, this particular night he had 20 ml of milk and slept very well for more than 3.5 hours. As Arata was fine, he was discharged today. But he had to stay with me in hospital. Without caesarian, usually mothers are also discharged after one night stay.


29/12/04

A doctor peeled off the bandage on the cut. Is it not too early? Quite surprised. What's more, I was shocked to see that the cut was made without shaving! I tried to give both breasts 20 minutes each today but Arata was still crying. I had to give him a bottle and once he had 50ml of milk, he slept for 5 hours. He must have been so hungry. To improve breastfeeding, I got changed into pyjamas which open at the front or I even got half naked to position Arata at my breast easily. Looking back, I don't think any breastmilk was coming. 3 days after normal and 5 days after caesarian birth, breastmilk usually starts to flow. Well, as I was quite persistent, Arata must have got at least plenty of Colostrum. Arata had his legs and hearing checked and all was clear. Hospital meals were Indian curry as expected. It's cool to have ethnic cuisine at hospital, isn't it?


30/12/04

I was discharged. It's just 2 and a half days after the caesarian operation. I thought it's too early but probably better staying at home as Jason can at least help me!