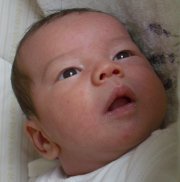 アラタが寝ている間に毛布から飛び出てしまうため、赤ちゃん用スリーピングバッグ(寝袋)を購入した。いろいろなデザインがあり、試行錯誤したが、開いた時に平らになるタイプ(肩がはずれて、片側からボトムにかけてL字型に開く)が、夜中にスリーピングバッグから出し入れする時に便利。ジョンルイス製や
Grobag
製など。これで、朝まで安眠している様子。周囲の人に聞いたところ、数ヶ月経ってからの赤ちゃんはスリーピングバッグを嫌がるそうだ。布団や毛布になれると下がふさがっているのが気に入らないらしい。アラタは抵抗なく寝てくれているので早く始めてよかった。


Arata often kicks off blanket during night and we bought baby sleepingbags. There are different types of bags and we found the ones which can be opened 'L shaped' convenient. These types are usually with shoulder opening as well and this makes the bag open totally flat and easy to take out and in baby. I bought one from Jonelle, John Lewsis. Grobag sleepingbags are also in this design. Most of my friends told me that their babies didn't like it. They assume their babies were introduced the sleeping bag not earlier enough. Luckily, it must be early enough for Arata and he seems to be happy in it and sleeps well.