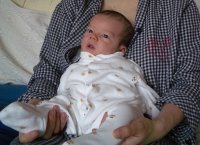 今日は新の一ヶ月誕生日。新を産んだ日のこと、忘れないうちに記録しておこうと思う。


===== パート1 出産編 =====


2004年12月27日午後11時14分、帝王切開で3120グラムの男児出産。この日は長い一日だった~。


午前1時

もう妊婦辞めたい私。分娩誘発の覚悟はできていたが、最後の抵抗、おっぱいマッサージを試すとテキメンで、あっという間に今までとは違う痛み、陣痛が、始まる。このままだとすぐにも(?)産まれちゃうと思い、とりあえず、一旦2時に就寝。ところで、おっぱいマッサージ、あまりにも強くもみ過ぎて、乳首の周りが一部内出血してしまった・・・私に授乳指導した助産婦はJasonの性癖を疑ったに違いない。



午前4時

陣痛で目が覚める。トイレに行くと鮮血の出血。分娩病棟に電話。対応した助産婦はとりあえず誘発の予定通り、朝8時に病院に来るようにと指示。


午前7時ごろまで

10から15分間隔に40秒ぐらい続く陣痛になる。寝ていると痛いのでリビングルームを歩き回り、ご飯を炊いて病院で食べるお結びを作る。まだまだ余裕だ。日本にいる植田、直美やあっこちゃんと「陣痛が始まった」とメールでチャット。「病院にいってきま~す」が最後のメッセージ。


午前9時

The Royal London Hospitalの分娩病棟の病室。Qualified(正規)助産婦、スペイン人のStudent(見習い)助産婦が私の担当。助産婦の内診。2CM 開いているので、子宮口を軟化させて陣痛を促進するジェル(prostaglandin)の使用はしないことに。やったー。(これで分娩誘発は避けられたと勘違いしてしまうのだが。)しばらく病室、廊下などを歩きながら陣痛を促す。TENSも使用してみるがいまいちピンと来ない。ところで、子宮口近くになにかあると、医者がもう一度内診した。子宮筋腫がそこにあるらしいが、助産婦はへその緒かもしれないと思ったようだ。


午前11時半

内診。2CMから進展なし。一時間後にもまだ変わりなければ破水させると言われる。


午後12時半

内診。進展なし。破水される。特に痛くなかったが、Student助産婦が少し手間取るのであせった。パッドをあてて、動き回ってよいという指示に従い動き周る。陣痛が少し強くなったがTENSは効かない。


午後1時半

パッドに出た羊水が茶緑。胎児が仮死状態になりウンチをした可能性があるので、この時点からベッドに横になり赤ちゃんの心音のモニターが始まったため、動き回って陣痛を我慢、重力を使って陣痛を促進ということができなくなる。TENSが効かないからだんだんつらくなる。笑気ガスも試すが効かず、気持ち悪くなった。


午後3時頃

パサディーンを勧められるが拒否。エピデュラル(硬膜外麻酔)をして~と懇願。たまたま担当のQualifiedが昼休みに行っていたため、 Studentが代わりに指示を仰いだ別のQualifiedは「担当の彼女が帰ってきたらエピデュラルしましょう。」でも、その彼女、予定通りにランチから帰ってこない。結果的に麻酔医がエピデュラルの準備をしにきた時は、もう地獄でなにが起きてるかもわからない状態。だいたい、Royal Londonには、Student助産婦、医者がいて、陣痛誘発剤のドリップをつけるために、手の甲の血管に長い針を刺す時も、Studentドクターがやろうとして、途中まで針を刺してもできず、オブザーブしていた医者が逆の手にやり直すなんてことも。Studentうんぬんが何かする時は拒否もできるけど・・・ちょっとねえ。


午後4時

エピデュラルの投与、陣痛誘発剤(Oxytocin)6MLの点滴開始。陣痛誘発剤で、かなり強い陣痛が起きるからエピデュラルなしでは地獄だろう。エピデュラルはすぐに効き始めたが、子宮の右側の効きがいまいちわるい。羊水に血液が混ざるのを不可解に思った助産婦が医師の指示を仰ぐ。どうやら子宮筋腫から出血しているらしい。


午後5時半

エピデュラル、2回目の投与。一時間半おきにトップアップできる。今回は、投与後、少し右を向いて横になるなった。これで、薬が右側に流れて右も効いてきた。が、下の方の効きが悪い。病室設置のCDプレイヤーでLondon MagicやJazz FM、クラシックFMなどを流しながら陣痛に耐える。


午後7時

エピデュラル、3回目の投与。下の方も効いてくる。陣痛が来ると、多少の痛みがあるのがわかるが、かなり楽に耐えられる。トイレに行けないので、膀胱に直接管を入れ尿を取る措置。お腹がすいてきたが、帝王切開になる可能性もあるので食事は禁止。水分補給のみ。お昼過ぎにお結びを胃に詰め込んでおいたとはいえ、これはつらかった。


午後8時半

エピデュラル、4回目の投与。一時間半おきにトップアップしないとちょっと耐えられないが、今回も全体に効いていい感じ。ただ、まだ子宮口は6CM程しか開いていないのでちょっと進行が遅い。赤ちゃんはエピデュラルをトップアップした直後に必ず一時的に心拍数が下がるのが気がかり。9時のシフト交替前に帝王切開をしたそうな医者。


午後9時

助産婦、医者のシフト交代。目の前で申し送りをする。子宮口は7CM。交替の医者は進行が遅いので、陣痛誘発剤(Oxytocin)の量を12MLに増量するよう指示。かなり陣痛がきつくなるがエピデュラルのおかげで卒倒せずに済んでいる感じ。


午後10時15分

今度の助産婦は、1時間半過ぎたのに、エピデュラルをトップアップしてくれない。彼女は「私が交代で入った時にトップアップしたばかりよ」と医者に言っている。それって1時間半前でしょ?陣痛誘発剤を増量したのに、エピデュラルがないなんて・・・・。私は激痛にだんだん耐えられなくなり、どうして投与してくれないのか理解できず、文句も言えず、かなりつらい。


間断ない激痛のため、涙を流しながら七転八倒したため、赤ちゃんの心拍数モニターは、彼の頭から直接測ることになる。子宮口からなにやらコードを挿入して赤ちゃんの頭にクリップする。担当助産婦は医者に「私が引き受けた直後は彼女は安定していたのに、急に痛がりだした」と言っていたが、エピデュラルのトップアップをしてくれないからじゃない。それにしても今日はなんて多くの人の手といろいろなものが私の下半身に挿入されているのかしら・・・。


午後10時40分

やっとエピデュラル、5回目の投与。医者がまだ痛がっている私をみて、やっとトップアップの指示を出す始末。赤ちゃんの心拍数がかなり不安定になる。私があまりにも痛がっているからだと思うけど・・・。エピデュアルは効いてきた。子宮口は9CM。もう少しなのだが、内診した医者は、赤ちゃんがまだ十分に下に降りてきていず、当分産まれそうもないと診断。


午後10時50分

医者が3人集まって病室の端で協議。「あなたは十分がんばったけど、赤ちゃんがもう限界なので」と、真夜中の帝王切開に。あとでJasonに聞いたところ、1人の医者がもう1人に、「こんな形の子宮、見たことあるか?」と言っていたらしい。どういうこと???。


午後11時

医者や助産婦、看護婦たちがあわただしく準備をしている。帝王切開のために、エピデュラルを更に大量に投与され、ぼーっとしている中、医者の1人が帝王切開の承諾書の条件を読み上げ、サインをさせられる。


午後11時すぎ

手術室へ入る。モルヒネも注射され、麻酔漬け状態。ここでもラジオのLondon Magicがかかっている・・・。


午後11時14分

手術開始後1分も経たずに、「男の子が産まれました」と言われる。ふぎゃー、ふぎゃーという赤ちゃんの泣き声が聞こえてきた。とうとう出てきた~、本当に産まれたんだ~と、麻酔でぼーっとなりながらほっとする。巨大児を予想していた私の第一声は「赤ちゃんは何キロ?」赤ちゃんのチェックを一通りしてから枕元に一瞬彼を連れてきてくれた。「私に似てないぞ」が私の第一印象。


午後12時

麻酔は効いているが、下腹部で何かを取り出したりしまったりする骨に響く感覚がある。12時少し前、縫合も終わり、別の部屋に移されると、Jason と赤ちゃんが待っていた。赤ちゃんをもう一度ヨーク見る。目が細長くて、耳と手、口が大きい。おでこと鼻は私似?私は、麻酔のせいで体の震えが止まらない。空腹で仕方がなく、「何か食べていいですか」と聞いてみるが、明日までだめ。代わりに、助産婦さんがプラスチックカップに熱い紅茶を入れてくれた。少しでもお腹の足しにと、普段は入れない砂糖を入れて。すごくおいしい紅茶だった。今までの人生で一番おいしかった紅茶!


午前2時

産後病棟に移される。Jasonは帰宅。


「反省と学んだこと」

前日まで100%心が決まっていなかったのだから、分娩誘発はキャンセルすべきだった。結果的には誘発をしたことによって、自然に陣痛を起こしたり、緩和したりができなかったのが痛かった。早くに破水させられ、身動きが取れなくなったのも陣痛を進められなかった原因だし、普通だったらまだ家で陣痛対策ができたのに、それも不可能になった。シフト交代前の助産婦さん、医者はよかったが、交代後のチームがいまいちだったのは単なる運なのだろうか?帝王切開で赤ちゃんは楽に出てこれてよかったかな。出産自体は、エピデュラルのおかげで思ったほどひどいものではなかった。妊娠中の9ヶ月に比べれば、たった1日の苦痛だし、また産んでもいい。


Arata's one month birthday! I've decided to write about what happened on the day he was born.....


===== Part 1 - Arata was born! =====


He was born at 23.14 on 27/12/2004 by Caesarian. He was 3.12Kg. It was a long long day.....


1 AM

I felt I'd had enough. I wanted to finish off 'maternity life'. I'd already made up my mind to go to hospital for the induction in the morning. But I anyway tried 'breast massage' which is said to cause contractions. Well, it really worked well and within a couple of minutes, contractions, different sort of pains, started. At 2 AM, I decided to stop massaging because I didn't want the labour started without any sleep. I went to bed. By the way, I must have massaged the breasts too hard. I found a bruise around a nipple. The midwife who showed me how to breastfeed may have got a wrong idea....


4 AM

Woken up by contractions. I saw slight bright red bleeding. Rang the Labour Ward. A midwife told me nothing to worry but come to hospital for the induction appointment at 8 AM.


Before 7 AM

Contractions became more intense, every 10 to 15 minutes, which lasted for about 40 seconds. I was moving around the living room, cooking rice and making rice balls to take to hospital. I then started to surf on the intenet and exchanging e-mails with my friends in Japan. My last message to them was, 'I'm going into labour!'


9 AM

At Royal London Hospital. One qualified and one student midwives were looking after me. The qualified one checked the cervix. It was dilated 2CM. They decided not to use the prostaglandin. (I thought I could have avoided the induction but I was wrong.) I was walking around to stimulate contractions. Tried TENS but didn't seem to work. A doctor checked me again as the midwife wasn't sure about something near the cervix, she thought it may be a part of the cord. It was actually one of the fibroids.


11.30 AM

Checked the cervix again. No development. The qualified midlife told me that they were going to break the waters if it was still the same in one hour.


12.30 PM

Checked by midwife. No development. The student midwife broke the waters. She was at first struggling to do it, which made me a bit nervous. It wasn't painful though. I then put on a sanitary pad and was allowed to move around. Contractions became stronger but TENS didn't work on me.


13.30PM

The water on the sanitary pad was a bit greenish brown. The baby might have been a bit distressed and pooed. Baby and I had to be monitored. I now could not move round but had to lie in bed with some monitor attached around my bump. This was quite bad as I could not use gravity to push the baby down or stimulate and manage contractions. As TENS did not work, I was given gas and air but this didn't work either. I felt a bit sick instead.


15.00 PM

I was offered pethadene but declined. I begged them to give me epidural. Unfortunately, the qualified midwife was out for lunch and the midwife who covered her told me that we had to wait till the qualified was back. But the qualified didn't come back after one hour.... she must have taken longer lunch without telling them! When an anaesthetist came round to set up epidural at last, I was in a state of panic from terrible pain and couldn't remember much. By the way, at Royal London Hospital, there are so many 'student' something. Student midwives, student nursees, student doctors..... When a long needle was inserted to the back of my hand for the Oxytocin drip, a student doctor tried to do it first but she couldn't and the doctor observing took her over to do it on the other hand! It horrified me! We of course have a right to reject student something but I wonder how many people say no.


16.00 PM

First dose of epidural. Oxytocin, 6ML, started. Without epidural, it must have been terrible since Oxytocin brought strong contractions. Epidural started to work immediately except for the right hand side of the uterus. The qualified midwife, who was a bit worried about my bleeding, asked a doctor for advice. The bleeding is from one of the fibroides.


17.30 PM

Second dose of epidural was topped up. It can be topped up every 1.5 hours. I was asked to lie on my right to make epidural flow to the right side of my body, too. It then started to work. But the lower side of my tummy still felt pain.... We tuned into London Magic, Classic FM, Jazz FM....


19.00 PM

3rd dose of epidural. It started to work on the lower tummy. With epidural, I can still feel contractions but easy to put up with. As I could not go to the toilet, a tube was inserted to my bladder. I felt hungry but was not allowed to eat anything, in case I might go for the Caesarian. I could only take plain water but no tea. I was wise enough to fill up my stomach with rice balls around the noon, but still getting really hungry.


20.30 PM

Epidural, 4th top-up. Worked very well. Midwife and doctor checked the cervix but still only 6CM. A bit slower than doctor expected. The baby's heartbeat always slowed down temporarily immediately after the top-up, which made us a bit worried. The doctor seemed to want to go for the Caesarian just before his shift change at 9 PM.


21.00 PM

Midwives and doctors' shift change. (This was actually the crucial point for me!) They did handover in front of me. The cervix dilated 7 CM. The new doctor ordered the new midwife to increase the amount of drip, Oxytocin, to 12ML. The contractions became really intense, and without epidural, I would have definitely passed out!


22.15 PM

The new midwife hadn't topped up epidural after 1.5 hours. She even told a doctor that when she came, I'd been just topped up. Well, that's 1.5 hours ago, though! The Oxytocin had been increased but no epidural.... the pain started to be so strong but I couldn't understand why they didn't give me more drug...


The pains started to come and go without break. I couldn't stand any more and I was crying, screaming, holding onto Jason and rolling in bed. Probably it's the main reason but anyway, it became difficult to take baby's heartbeat from outside of my bump. The baby had a monitor cord clipped to his head directly. A doctor inserted the cord through the cervix. Well, so many things and hands have passed through my vagina today.... The midwife said to the doctor, 'When I took over her, she was quite stable. But suddenly started to scream.' It's YOU who hasn't given me extra epidural!, I thought, but it was too painful for me to make any proper complaints.


22.40 PM

5th epidural, at last, after the doctor returned for his checkup to find I was still in intense pain. But baby's heart beat was getting unstable again. I'm sure it's because it was so painful and I moved a lot. If epidural had been working ok, baby should have been ok. Once the epidural was topped up, it immediately started to work again. The cervix was dilated 9CM. It's nearly there but the doctor checked inside said the baby wasn't lowered enough and it would still take some time till the baby was ready.


22.50 PM

3 doctors gathered to discuss in a corner of the room. I was then told, 'You have been doing very well but your baby has had enough.' They decided to go for caesarian. Later Jason told me that he'd overheard one of the doctors asking another 'Have you ever seen a uterus shaped like this before?' What does this mean?


23.00 PM

More doctors and midwives rushed into the room to get it ready. Double doses of epidural was topped up. One of the doctors came to me and read out the terms and conditions of the operation. My head was really drowsy from epidural but I signed the paper of consent.


Just after 23.00 PM

Got into the operation theatre. I was injected with diamorphine as well. I could hear London Magic FM from the radio there...


23.14 PM

Within one minute after the operation started, the anaesthetist said to us, 'Congratulations! You have a baby boy.' I could hear 'Fugnyaaa... Fugnyaaa..' At last, it's out! I felt so relieved. By the way, as I was somehow expecting a huge baby, my first words to the anaesthetist was 'How big is he?' Having checked the baby, a midwife brought the baby briefly to us. My first impression on him was 'he doesn't look like me!'


Just before 24.00 AM

Local anaesthetic was working perfectly but I could still feel something being taken out and in from the lower part of the body. Just before midnight, the operation was completed and I was transfered to another room. Jason and the baby were already there. I had a better look at the baby. His eyes are long but thin, ears, hands and mouth are big. Probably his forehead and nose are from me? From the anaesthetic, my whole body was still shaking. I was so hungry and asked a midwife if I could eat anything. but I wasn't allowed to eat... She then brought me a nice cup of tea. I was starving and asked her to put some sugar. Well, the tea was the best I had ever had in my life!


2.00 AM

Transfered to the postnatal ward. Jason went home.


What I learnt...

I hadn't made up my mind till the day before but I should have cancelled the induction appointment. If the waters hadn't been broken so early for example, I should have been able to move around longer and the labour must have been much easier. In addition, NHS nurses, midwives and doctors are a bit dodgy, aren't they? A couple of episodes are like jokes! And epidural is a 'must'. Compared to the 9 months ordeal of being pregnant, labour lasts only for one day at most and not that bad. I don't mind giving birth again.