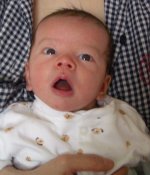 生まれたての赤ちゃんは「光」にやけに反応するようだ。授乳後にミルクをセトルさせるため、縦抱きにしたり、肩に担いだりすると、昼間だと居間の窓からテムズ川が反射して白くみえるから、よく、アラタは口を開けて熱中している。写真はママの膝に座って窓の外を見るアラタ。


今日は日本から来ていた母を見送りにヒースロー空港へ行った。空港内はそれこそ、いろいろなライトがあって華やかだ。バギーから見える光景にアラタはかなり興奮していたみたいで、きょろきょろしては嬉しくてニヤニヤしていた。おかげで夜は興奮が冷めず、なかなか寝付けなかったが。


母は日本への帰路、ほとんど寝られなかったそうだ。アラタとしばらく会えないと思うと悲しくて・・・。


New born babies seem to react to light. When Arata is held upright or on my shoulder after being fed to settle milk, he can look the river Thames out of the window. Being excited by the sight, he always looks outside eagerly opening his mouth! The photo was taken when he was looking outside while sitting on his mum's lap.


We went to Heathrow Airport to see off my mum. There are plenty of different lights at the airport. Arata was so excited and looking around from his buggy. He often giggled apparently from joy! He could not go to sleep very well at night from the excitement at the airport, though.


My mum rang me next morning and told me that she could not sleep at all on the plane. Because she had already started to miss Arata and felt a bit sentimental...