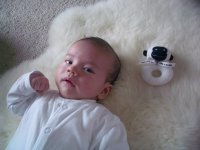 せっかく夜の授乳回数が減ったのに、相変わらず明け方におっぱいが張って結局熟睡できない。横向きでも、上向きでも、おっぱい自体の重さでおっぱいが圧迫されて痛くて寝られない。ヘルスビジターさんには、搾乳はしないように、そのうちに需要と供給が合ってくるからと言われた。確かに採ったら、体はたくさん飲んでると勘違いしてもっとミルクを作るものね。じゃあと、少しだけ搾乳をしていたが、ここ数日はアラタが起きそうな気配があれば、起こして「搾乳」してもらっている。寝不足はしばらく解消されそうもない・・・・。


さて、おっぱいが張って痛い時はキャベツの葉をブラと胸の間に入れるといいと言われている。私もやった事がある。キャベツがなかったから白菜を使ったけど、白菜の白い部分はキャベツより厚いので冷たさが長持ちだった。そして、痛い部分をマッサージしながら授乳をしたらすっきりした。それ以降は搾乳器を使うようになったので1回きりだが、応急処置にはよかった。


公共の場での授乳は、ママ友達はどこでも授乳するっていうので、私も最近はあまり気にせず授乳している。1歳過ぎの赤ちゃんがいるママ達は、さすがにプロで、おしゃべりの最中にこっちは全く気が付かないうちに授乳している。私もあんなふうに出来るようになりたいけど、まだまだ露出度が高いわ。


Arata has only woken up once or twice during night recently. It's a good sign. But my breasts still become too full and get sore in the early morning. The weight of the full breasts push the breast themselves, which is so painful. A health visitor advised me not to express milk as more milk will be produced by doing that. Ok, I listened to her and was expressing only a little bit. I've started to wake Arata up, if he is about to make some noises, and let him express some milk. I wish I would be able to sleep without any distraction!


When breasts are swollen, put a piece of cabbage leaf between bra and breast, lots of sites and books say. I've tried once. I used Chinese cabbage instead. I think Chinese cabbage is much better because the leaves are thicker and keep breasts cool longer.


In public, I've started to breastfeed without much hesitation. My friends with 1 or 2 years old babies all agree that it is not that embarrassing and I've started to feel more confortable. But compared to them, I'm still an 'entry level' breastfeeder. They often feed their babies while we are chatting without even being noticed. I still expose much much more! Hope I will be able to do it like them soon!