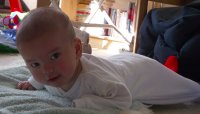 赤ちゃん用お風呂がだいぶ小さくなってきた。今まで、Toshiさんからもらったベイビーバスで、アラタをお風呂に入れていたけれど、アラタが大きくなってきて赤ちゃん用のお風呂が小さく感じる。その上、アラタはリラックスして足をばたばたさせたりもするから、居間のじゅうたんは水浸し。最近は、普通のお風呂にママと一緒に入る練習をしている。


初めて入った時は、体中緊張して、お風呂から出た途端に恐怖で震えていた。私の入れ方もいまいちで不安げだったのだろう。自信のなさは赤ちゃんに伝わって不安にするらしいから。最近は少し慣れてきて、お風呂の中で少し前後に揺らしてあげると嬉しそうな顔をする。今日は自分の腕でぴしゃぴしゃ少しだけ遊んでいた。私達にとって何よりも嬉しいのは、お風呂に入る前にアラタを裸にしてタオルでくるむ時。アラタはお風呂に入るってわかるらしくて、興奮して声を出して笑う。


The baby bath we've been using has been getting small for Arata. He can easily reach the other end of the bath by his feet now. He sometimes splashes water and makes the carpet wet. We've started to take him in the normal bath every now and then to get him used to it.


When he first took the big bath, he must have been so frightened. Immediately after he was out, he started shivering. Probably he sensed my lack of confidence because when mum is nervous, baby senses it and feels nervous, too. Recently, he's started to used to the big bath. He especially likes being rocked gently in the water.


For us, the most enjoyable moment is when we take his clothes off and wrap him with a towel before taking him to the bathroom. He knows what's coming next and laughs!