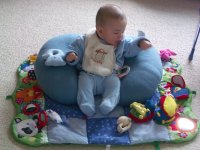 アラタはもう少しでサポートなしでお座りができるようになりそう。今日はボピーに支えてもらって座ってみた。


昨日はJasonも会社を休み、フラットハンティング。リッチモンドに近くて、モダンなフラットが多いアイズルワースにも行ってみたが、最終的には今週になって突然候補に挙がったウォーキング(Woking)に落ち着きそう。


ウォーキングは遠い。ロンドンの郊外を走る、直径約70Kmの環状高速道路M25よりも外。いわゆる「グレーターロンドン」には入らないのだ。地下鉄もこんなに遠くまで通っていないし、シティから55Km(直線距離で40Km)だから、現在住んでいるWapping(シティから3Km)と比べると、芝浦のウオーターフロントに住んでいたのに、大宮に引越して、でもまだ丸の内に通うようなものだ。ただ、Jasonの職場にはかなり近くなるので、産休中はまあいいか。仕事に復帰する時にはもう一度引っ越すか、職場が近いJasonにアラタの保育園への送り向えを全部任せるか。ウォーキングからウオータールーまで、特急で30分、本数も多いので、意外に便利なロケーションかもしれないが・・・。


Arata will soon sit up without support. He's started to sit up leaning the boppy recently.


Jason took a day off yesterday and we went to flat hunting. We first went to Isleworth. Isleworth is close to Richmond and have more modern flats for less rent. We found a nice one but after viewing a couple of flats in Woking, we will probably choose one in there.


Woking is very far from the central London. I've hardly heard of the name nor been there. It's outside of M25 and not within the 'greater London'. 55km from the city, direct distance is about 40Km, Wapping is only 3 Km from the city, by the way. Of course, it will be much much easier for Jason to commute and I will give in while I am on maternity leave. Once I go back to work, we will need to move again to a closer location or Jason will have to drop off and pick up Arata from nursery. The BR train services to Working from Waterloo are quite good, though. It takes only 30 minutes and very frequent.