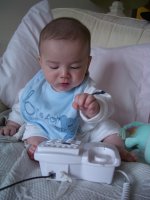 あゆみさんがメイクレッスンをしてくれた。あゆみさんは、あの、アラタのファーストキスを奪ったタバサちゃんのおかあさんで、メイクアップアーチストだ。今日は朝から、のりこさんやしのぶさんも「観客」として、うちに集合。ばっちりメイクしてもらい、その後はみんなでBankまで繰り出して、あゆみさんに化粧品も選んでもらった。彼女は、日本にはAT SALONというお店まで持っているプロだけど、みんなの「やって、やって~」というリクエストを快く引き受けてくれているから、ワピングの日本人ママの眉毛は最近なんだか違う。


さて、アラタは最近手先が器用になってきた。左から右へぎこちなくだけど、ものを渡せるようになったし、私が電話をしていると、楽しくボタンで遊ぶ。電話を切っちゃうことも得意だ。


Ayumi is the mum of Tabasa, who stole Arata's first kiss. She gave me a make-up lesson this morning. Shinobu and Noriko had her lesson before but they came to our flat with their children to see it. We then went to Bank and Ayumi chose some cosmetics for me. Ayumi is a successful professional make-up artist in Japan, she runs a beauty salon
AT SALON
in Osaka,
but she is never reluctant to give us a make-up lesson. Japanese mums in Wapping have looked different recently. Of course, more beautiful!


Arata's hands coordination is getting better. He passes an object from his left to the right. He loves playing with telephone keyboard. Sometimes, he pushes the hook though....