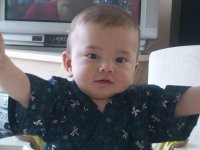 今日はアラタの日本のおじいちゃんが古希を迎えた。お誕生日おめでとう!さて、今日も暑かった。アラタの湿疹はよくならないどころか悪化。やっぱりあせもじゃないかなあ。昼過ぎにベイビーバスに少しぬるめのお湯を入れて行水させた。アラタには馬場園さんにいただいた甚平を着せたが、風通しがよいから少しは楽そうだった。さすがに、夏が厳しい日本仕様の服だ。午後は、れいこさん宅のBBQに行った。Toshさんの会で会う人たち何人かに半年振りに会った。せっかくのお目見えだったが、暑過ぎて、甚平どころか、アラタは下着一枚で登場。


きょうで離乳食2週目に突入。この1週間アラタに食べさせる量がかなりいい加減だったけど、日本の離乳食の雑誌を手に入れたので、少し真面目にやることにした。今までピジョンの離乳食調理セットについていた小さいスプーンでおかゆを5、6杯上げていたが、離乳食の1さじって小さじ1杯を指すらしいから、今までは約2さじ分ほど上げていたことになる。この雑誌によると、炭水化物は1さじから始まって、7日目までに3さじに増やし、2週間後までに5、6さじまでに増やす。ビタミン・ミネラルは6日目ぐらいから、たんぱく質は11日目ぐらいから、それぞれ1さじから初めて、3日毎に1さじ増やしていく。まあ、もう始めちゃったし、この基本をお手本に、少し軌道修正しようと思う。今日は十倍がゆもたくさん炊いて冷凍。アラタはおかゆ2さじとにんじん1さじを食べた。


It's Arata's Japanese grandfather's 70th birthday. Happy birth day, granddad!


It was hot again. Arata's rash hasn't improved. I have a feeling that it's not a reaction to soap but more likely heat rash. We bathed him in the baby bath with lukewarm water this afternoon and dressed him in Japanese Jimbei, a kimono like traditional summer clothes which allows plenty of air between clothes and body. We then went to BBQ at Reiko's. But by the time, it was too hot for Arata to be even in Jimbei and he was just in bodysuit for such an occasion, to meet lots of people!


It's the 2nd week of his weaning. I must admit that I haven't been following a proper plan. But I've decided to follow a Japanese baby magazine. According to it, [Rice etc] 1 teaspoon on the first day and increase amount upto 3 teaspoons till the 7th day, then to 5 to 6 tsp till the end of the 2nd week [Veg] starts from 6th day with 1 tsp and increase 1 tsp every week [Protein] starts from 11th day with 1 tsp and increase 1 tsp every week. Well, we've started already and we could now only adjust a little bit to this theory. I cooked 1 rice with 10 water porridge again and froze it. Arata ate 2 tsp of rice porridge and 1 tsp of boiled and ground carrot.