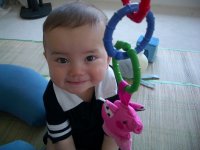 今日で離乳開始後、丸2週間。アラタはおかゆ小さじ3杯とにんじん1杯を食べた。そして、初めてアラタのウンチが少し硬かった。成長しているなあ!

最近、誰の姿も見えないとアラタは不安になるらしい。一人で楽しく遊んでいると思って、私が台所にたったりすると、ものすごい勢いで泣き出すのだ。その代わり、私たちとの「遊び」も大切な時間になってきたようだ。私は、アラタがおもちゃで遊んでいる前に座って、横を向きながら床に置いたPCでメールのチェックをよくする。そんな時に、アラタが私の方に体を倒して(ゆらして)くるので、私がぱっと彼を見ると、アラタはそれが面白いらしく、声を出して笑う。今度は、私が突然彼の方を向いたり、横目でちらっと見ることを繰り返すと、もっともっとアラタは興奮する。

アラタは、じーっと私を見つめていることも多い。私が彼の視線に気づいて微笑み返すと、どういうわけか、はにかみながら、満面に笑みを浮かべる。やばい・・・赤ちゃんってかわい過ぎるわ。


It's been 2 weeks since we started weaning Arata. He had 3 tsp of rice porridge and 1 tsp of carrot today. And he had slightly thicker poo for the first time. His body system is surely growing!


Arata has started to feel nervous when he can not see anybody around him. When I go to the kitchen, knowing he is happy playing on his own, he starts to cry, or rather scream, soon after. It's also true that playing with us has become very important to him. I often check e-mail sitting in front of Arata facing towards the PC on the floor. Arata sometimes swings his body forward, towards me, so I look at him. It must be amusing for him. He starts to laugh. I then face to him suddenly or look at him in the corner of my eye. He gets more excited!


Arata often stares at me. When I realise it and smile at him, he smiles back to me very shyly! Well, I now know how adorable babies are!