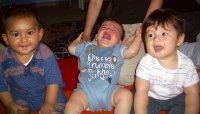 久しぶりにロンドンまで、ベイビーヨガへ行った。モンモイにも会えて同窓会のよう。それにしても、みんな大きくなった。写真のモンモイ、アラタ(泣きっぱなし)、テオは誕生日がほぼ同じ。
3ヶ月前のモンモイと
4ヶ月前のテオくん
はこんな感じだった。モンモイはますます男っぽくハンサムになって、テオくんは体重はもう10Kgあって、少年っぽくなった。2人ともよく食べて、夜中は起きなくなったそうだ。ちょっとうらやましい。


We hadn't been to Yoga near Wapping, London, for more than a month. Today, we saw Monmoy and Mahmuda as well and it was like a school reunion. Theo, Monmoy and Arata (can't stop crying!) in this photo were all born around the same time. This is
Monmoy 3 months ago and
Theo 4 months ago. They've all grown! Monmoy has become more handsome. Theo now looks like a boy, no longer a baby, and he weighs about 10Kg! They both eat well and sleep all night. I envy their mums a bit...