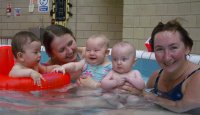 コーヒーモーニングで会うお母さんたちと、 Woking Park にある
'Pool in the Park'
へ行った。ここは、波のプールなどもあるレジャープールで、アラタを赤ちゃん用浮き輪に入れて浮かしたり、流れるプールに連れて行ったりしたが、泣くこともなく楽しんでいた。水をたくさん飲んで、後で、吐いていたけど・・・。


遅蒔きながら、アラタが寝返りをうった。朝寝をさせようと、私達のベッドで寝かしつけていた時に、うだうだしながらくるん!仰向けに寝たままでずりずり移動もするので、そのうちベッドから落ちるかもしれない。


We went to the swimming pool in Woking Park,
'Pool in the Park'
, with the mums & babies we met from the coffee morning. The Leisure Lagoon is entertaining swimming pools with full of fun! Arata was floating in a baby float for a while and challenged the river rapids ride! He really liked all of them. He thrown up a bit later probably because he drank quite a lot of water.


Another mile stone. At last, Arata clearly rolled over. It happened when I was trying to let him have a morning nap in our bed. He was grizzling and moving around for a while. Then just rolled over! He has started to move while lying down on his back and I'm a bit worried that he may fall from our bed one day....