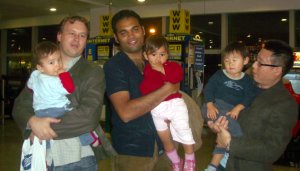 日本到着。機内には知り合いママ3人を含めた5組の赤ちゃん&幼児。私の隣は2席空けてあさみさん親子が座り、斜め前には窓側の2席をブロックした通路側にしのぶさん達がいたため、そこをテンポラリープレイエリアにして子供達を遊ばせたりと、快適な旅だった。


子供の時に乗って以来のJALフライトだったけれど、フライトアテンダントの人達はみな親切で、これなら一人でも乗れそうだ。子供達が寝てからは、しのぶさんとホッと一息、コーヒーを飲んだりしている間にあっという間に日本に着いてしまった。


アラタと言えば、バジネットに乗せたら「遊び」と思ったのかきゃっきゃっと楽しそうだった。離陸着陸時はおっぱいを飲ませてしのぎ、11時間のフライト中7時間ちょっと寝てくれた。


さて、ヒースローの出国ゲートで子供を母親に渡して見送る(あさみさんのところ以外)3人のパパ達。ぎりぎりまで子供を抱いていた胸のあたりの空間を残したまま、私達が見えなくなるまで佇んでいた姿が妙に寂しかった。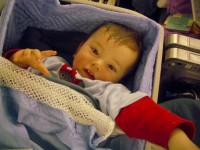 Arrived in Japan. During 11 hour flight, there were 5 babies and families on board, including us, 4 families. Asami and Sachi had a seat in the same row with 2 blocked seats in between. Shinobu and Akira sat with 2 blocked seats towards a window, and we made this area as a temporary 'play area'.


It's been long since I flew on JAL, because usually they are more expensive than other airlines. But anyway, it was a really comfortable flight. Flight attendants were all friendly and helpful. I thought it won't be so difficult to fly on my own with Arata. After our children fell asleep, Shinobu and I had a nice cup of coffee and enjoyed the short peaceful moment. Surprisingly, it was really quick to arrive in Japan.


Arata enjoyed being in basinet. He seemed to think he was doing pee-ka-boo at first. I breastfed him while taking off and landing, and he didn't cry in both occasions from the sudden changes of air pressure.


At Heathrow airport, it was quite a sad farewell for daddies. (In this photo, all daddies except for Asami's.) They were all holding their babies until the last moment before we went into the departure gate. When we looked back for the last time, before we completely disappeared, they looked 'lost' with the space they had been holding their children still wide open.