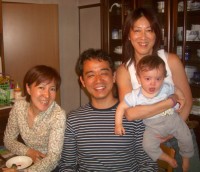 日本到着後一週間が過ぎ、ようやくアラタの時差ぼけが落ち着いて来た。とは言っても就寝は英国での8時ではなく10時。日本は夜遅くまでお店は開いてるし(私のショッピング!)、中里家は宵っ張りな家庭なので、昼間はまだ仕事に行っているアラタの祖父母にもちょうどいい時間かもしれない。


英国との8時間の時差は赤ちゃんには不憫だ。いや、それよりも、いつもと環境が違う事はアラタをもっと不安にする。夜中に何回も起きて、おっぱいを上げても泣き止まず、Calpolを上げて寝かす羽目にもなった。そして、Calpolが効かないかと思うほど泣いていた初めの数日、アラタは「ダッ、ダッ、ダディー---」と言いながら泣き続けたのだ。


実はこれがアラタの口から「ダディ」と初めてはっきりと聞いた瞬間。私も涙がでた。ママが視界から少しでも消えると「マミィー-」と言って泣くことも覚えた。アラタの人生で一番の試練の時に、意思の疎通の手段として言葉を喋ろうとするアラタはなんともけなげで切ない。


写真は早速会いに来てくれた弟夫婦と。


It took about a week for Arata (and me) to adjust the 8 hour time difference. Well, Arata goes to bed at about 10 pm, not 8 pm like in England. But here in Japan, it's more to do in the early night, lots of shops or department stores are open till 8 or 9, and my parents go to work during day, 10 o'clock should be quite acceptable.


8 hour difference is tough for 0 year old baby. Probably the change of environment is the worst fear for Arata. In the first week, Arata woke up many time during night, crying and crying. Breastfeeding didn't work and I gave him Calpol in the first few days. And during these days, Arata was crying for daddy.... he kept going 'Da da da da daddiiiiiieeeeeee...'


It was the first time for me to hear Arata so clearly saying 'Daddy'. I cried as well.... In the first challenging moment for his life, he tried hard to communicate with us with words. Even when I was going to walk to another room, Arata cried shouting 'Ma miiiieeee'. It's moving but I feel guilty.


My brother and his wife came to visit us last Sunday to see their first nephew.