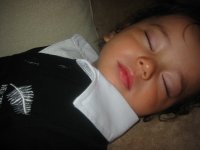 アラタはミルクを飲みながら自分の髪の毛をなでるのが好き。お昼ねをする時にも髪の毛をなでなでしながら、「ねんねんねん」とつぶやく。チャイルドサイコセラピストでもあるJasonママによると、アラタにとって自分の髪の毛が「移行対象」なのでは。


絶対的に依存しているお母さんが自分とは別の人間だということを理解し、やがて自立していくまでの間に、お母さんを思い出させて安心感を与えるものが、「移行対象」と心理学で呼ばれる。赤ちゃんにとっては、自分以外の初めての「所有物」で、自分以外に対象が向かう自立のめばえなんだそうだ。


今のところ、ライナスの毛布のように、これがないとだめ!というものはアラタにはないが、もし本当に、彼にとって自分の髪の毛が「移行対象」だったら、切ってしまったらどうなるのかしら??


さて、今日はナーサリーのお試し初日。お母さんがそっと消えるのではなく、ばいばいをして、お母さんは行っちゃうけれど、後で迎えに来るということを教えるのだそうだ。ばいば~いと手を振って別れたが、アラタはへっちゃらな様子。果たしてばいばいの本当の意味がわかっているのか、アラタ?1時間後に戻ってみて様子を聞くと、「彼はぜーんぜん、大丈夫だったわ。」私にとってもアラタ抜きの楽しい1時間だったわ。写真は時差ぼけアラタ。


Arata likes stroking his hair when he is feeding milk. When he tries to have a nap, he also touches his hair saying, 'Nenn Nenn Nenn....' Jason's mum, who is a child psychotherapist, thinks his hair may be a 'transitional object' for Arata.


At first, babies rely on mothers 100%. But gradually, they start to learn mothers and themselves are two different objects, in the process of finding their independence. During this period, children often have special objects such as a toy or blanket which gives them comfort.


Arata hasn't got a toy he must have when going to bed yet. But if his hair is a transitional object for him, what will happen when he has his hair cut?


This afternoon, Arata had his first settle-in session at nursery. We are asked to say 'bye bye' to let children know we are leaving but coming back later for them. Arata and I waved each other saying, 'Bye bye.' He seemed to have no problem. Does he really know the meaning of bye-bye?? Anyway, one hour later when I went back, a carer told me, 'he was absolutely fine.' Well, I also had a good time without small one!