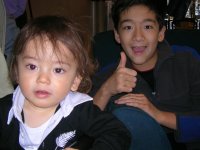 今年初めに卒乳。以前から、偏頭痛の薬を飲むために母乳を止めなきゃと思いながら、なかなかできなかった。少しずつ減らしてはいたのだけれども、お昼寝する時におっぱいを上げるとパタンと寝てくれるのは便利だし、なんと言っても、止めてしまうとういう事実が寂しかったのかな。


飛行機の離着陸時の気圧の変化で赤ちゃんが泣かないためには、おっぱいを上げるのが常套手段。だから、ニュージーランドへの里帰り前にも止められなかった。


ニュージーランドに着いてからは、長引く風邪のせいか母乳の出が悪くなった。それでも時差ぼけで夜中に起きるとあげたり、数日して溜まると飲ませたりしていた。ところが、今年に入ったある日、夜中に泣き叫びながら起きたアラタは私のおっぱいを拒否。これが最後の試み。記憶装置がない1歳児のアラタは、かつてママのおっぱいを飲んでいたってこと、もう忘れてしまっているのかなぁ。

さて、ナーサリーで2時間過ごしたアラタはそのほとんどを泣いて過ごした様子。この前も今日も、ずっとドアの方を見ているのかなあ、私が迎えに行ってドアのガラスの窓からのぞくとすぐに怒って泣いているアラタと目があう。ただ、アラタ担当の保母さんのキャリーにべったりだったそうで、彼女に少し慣れてきたようだ。写真は久々に会ったゆうきお兄ちゃんと。

Arata has weaned since the beginning of this year. I'd wanted to stop breastfeeding for a long time, to take medicine for my terrible migraine. But breastfeeding is so convenient, they can fall asleep easily when being fed, for example. In fact, the main reason I couldn't stop was because I felt myself sad....


I was thinking about stopping before going back to work. But after our holiday as I wanted to bereastfeed Arata while taking off and landing, to prevent him from feeling the changes of air pressure.


After arriving in New Zealand, I stopped producing much milk. Probably because of prolonged cold. Yet I gave him my breast from time to time, when Arata woke up crying in the middle of night or when my breast became sore from full of milk. And in one night, Arata woke up crying and I offered my breast as usual. But Arata refused my offer!!! It was the last attempt. One year old babies are said to have no long memories. Probably Arata does not even remember he used to be breastfed...


Arata had another settle-in session at nursery this afternoon. I was told he was crying most of the time. When I went back to pick him up, as soon as he found me, which was really quick because he had been looking at the direction of the door where I'd disappeared, he was really angry and crying...