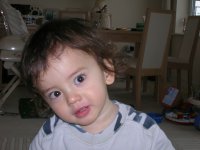 月曜日は私が、火曜日はJasonが会社を休んでアラタの面倒をみた。月曜日はテスコのカフェで大量に嘔吐してしまったアラタだったが、火曜日は元気にしていたので夜、約一週間ぶりにミルクも飲ませ、水曜日はナーサリーに行った。もう大丈夫のようだ。一週間かかった。抗生物質は効かなかったから、細菌性ではなくて、ウイルス性の病気だったみたい。やっぱりNHSはあてにならない。


ナーサリーに連れて行った時、先週ぐらいから泣かなくなった。こちらも約一ヶ月で慣れたようだ。NZへのホリデーから帰ってきて、疲れていたところに、例年になく寒かった今年の冬が待っていた。ナーサリーが始まり、私は会社に行きだして、環境の変わったストレスもあって、アラタも私もぶっ倒れたってところか。私の調子もまだ完璧ではないが、回復に向かっている。仕事も少し慣れてきて、週3日間だと、かえって集中して能率的にこなせるから、気分もいい。


この一ヶ月、つらかったけど、まあ、物事、一ヶ月我慢できれば、自然と生活パターンにはまっていくものだから。そして、昨日あたりから少し暖かくなってきて嬉しい。


I had a day off on Monday, Jason had one on Tuesday, to look after Arata. He thrown up at a cafe in Tesco on Monday but he was fine on Tuesday, and he had even some milk, he hadn't had it for a week. We took him to the nursery yesterday. It took a week for him to get better. Antibiotics didn't work,though. We think it wasn't any bacterial infection but some viral infection. I am so disappointed with NHS again....


Arata has stopped crying in the morning, when I drop him off at nursery, since last week. It took about a month, but he finally got used to it. When he started nursery and I started to go back to work, we had just come back from holiday to NZ. We must have been tired from over one month holiday and came back to very cold winter. Our everyday pattern changed, which caused great stress on us. These are the reasons we both fell ill, I reckon. It's still not perfect but I have been getting better, too. I have regained the work skills and rebuilt the concentration and pace in one month. It's rather better to work only 3 days a week. I can work more effectively.


It's been quite hard in the last one month. But I have to remember that whatever changes happen, they usually start to fit in or you get used to them after a month. On top of that, I feel Spring is around the corner. It was much warmer yesterday.