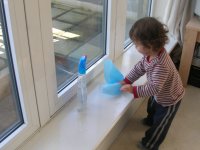 食事をかなり一人でできるようになったので、最近は大抵放っておくことにしている。私達が食べさせようとすると「自分で食べる!」と言わんばかりに機嫌を悪くして、スプーンを投げたりするから大変だ。まあ、ハイチェアの周りは相変わらずぐちゃぐちゃになるが、食べ物がこぼれたりすると「ティッシュ!」と言うので、一枚渡すと意外ときれいに拭く。関心、関心。その延長か、今日はダディが拭き掃除をしていたら、アラタも手伝っていた。ママが怠惰なだけに、いい子に育ってる!?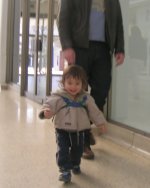 ランチにいいカフェがないか、私の運転の練習もかねて探していたら、いつの間にかファーンボロまで行ってしまった。ああ、怖かった。ラウンドアバウトは相変わらずひやひやなんだもの。ファーンボロのショッピングセンターを目ざとく見つけ、「行こうよ~」と私。買い物をしていると、なーんとジョウズィ一家にばったり。普段行かないファーンボロで彼女に会うなんて、すごい偶然。JeffとJasonは初対面。カフェでちょっとおしゃべりした。


ショッピングセンターでは、としさんから譲り受けていたハーネスを初めてアラタにつけてみた。10年以上前ブリストルで、ハーネスに引っ張られながら歩いている子供を初めて見た時は、本当にびっくりした。あれじゃあ、犬だ、ひどい、日本だったら幼児虐待だなんて思ったが、実は便利。これがないとアラタは明後日の方向へ歩いて行ったっきり帰ってこない。(2枚目はJasonがハーネスの紐を持って歩いている写真。)


We leave Arata to eat by himself most of the time now. He makes really a mess but he doesn't like us to feed him any more. When we do, he often gets annoyed and throws away the spoon! Well, a good thing is Arata can now say, 'Tissue' and when he gets a piece, he can clean the table quite well. He was even helping Jason to clean the flat today. Arata must know his mummy is too lazy and he has to do it by now?


We were looking for a nice cafe for lunch and ended up in Farnborough. I was actually driving, as I need to practice, but it was still not comfortable for me. I still don't get used to roundabouts... When we were shopping in a shopping centre in Farnborough, we ran into Josie, Luke and Jeff! We don't usually go there, I was in Farnborough for the first time, and we met them. It's a really surprise! We went to a cafe for a coffee. At last, Jason met Jeff.


We tried a harness & rein, the hand-me-down from Toshi, on Arata. Well, when I first saw a toddler tied to a walking rein, more than 10 years ago in Bristol, I felt so sorry for the child. I even thought how mean the mother was, it could be a child abuse in Japan!! In fact, it is quite handy. Without it, Arata will walk to anywhere he wants and we must keep chasing after him.... In the second photo, Jason is holding the rein, which is attached to the harness Arata is wearing.