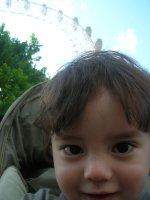 天気よし。ロンドンまで電車に乗って、ウォータールーをぶらぶらしに行った。しばらく行かない間に、ウォータールー周辺のテムズ沿いはちょっと違っていた。路上パフォーマンスが氾濫して、(チェーン店ばかりだけれど)レストランやカフェやが増えている。ロンドンアイの真下にはごろ寝できる芝生と、プレイグラウンドまであることは、多分以前は気がつかなかったのだろう。


アラタが昼寝してくれることを、そしてその間にゆっくりコーヒーでも飲むことを、願って川沿いを少し散歩したが、刺激的な光景に興奮して全くだめ。仕方なく、芝生に座って屋台のアイスクリームを食べてから、水族館へ。魚を指さしたりもしていたけれど、大きな水槽の中を泳いでいる魚やらサメやらをちょっと怖がっていた。もう少し大きくなってからの方が面白いのかな。私は楽しかったけどね。

結局昼寝を全くしませんでした。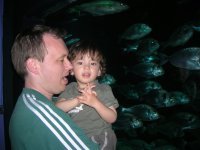 Very nice day. We went to London to wander around Waterloo. It's changed a lot since I went there last time. There are lots of street performers and more eating places along the river Thames. I didn't realise before that there is a park with a play ground just under the London Eye.


We walked along the river hoping that Arata would fall asleep, and we could have a coffee peacefully. But the area was too exciting for him. We changed our plan and sat on the lawn with ice cream instead. Then we went to the London Aquarium. Arata was pointing fish with his eyes wide open, but he was also a bit frightened by big fish or sharks in the huge tanks. Probably a little bit older children can appreciate it more. I enjoyed it!


And... Arata didn't have a nap at all.