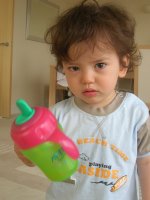 1才で卒乳して以来、ベッドタイムのミルク(フォーミュラ 1/3 + ホールミルクの牛乳2/3)はボトルで飲んでいる。ナーサリーの大きいクラスではもうフォーミュラはもらえない。でも、就寝前はそれでいけるか疑問に思っていたところ、パリでフォーミュラが足らなくなった時に牛乳だけで寝付いてくれて一安心。


そして、もうすぐ弟も生まれることだし、どうにか就寝前でも、シップカップからミルクを飲めるようにならないか模索していた。ある雑誌によると、1歳半までに切り替えるとスムーズに行くらしい。慌てて真剣にやることにしたのだが…。

ジュースを飲む時に好んで使う

Tommee Tippe のカップ

はスパウトを洗うのが難しく、ミルクには向かない。いくつか他のブランドのカップを買ってみたが6ヶ月+用だとスパウトが硬すぎて気に入らない様子。

しばらく使っていなかった

Aventのカップ(3ヶ月+用、200ML)

で上げてみたら飲んだので、たくさん(250~300ML)飲む就寝用に、6ヶ月+(260ML)を購入。スパウトだけは柔らかい3ヶ月+のものに付け替えた。飲んでくれたのは初日だけ。その後数日ストライキ。結局ボトルに戻ってしまった。ミルクさえ飲んでくれれば、ボトルのままでもいいけれど、また忘れた頃に試してみるか…。


At nursery's little learner's class, they only give children whole milk. At bed time, Arata takes mixture of 1/3 formula and 2/3 whole milk. I was not sure if he took milk only before going to bed but when we ran out of formula in Paris, he took just milk, to our relief.


I'm trying to switch from bottles to sipper cups when feeding him at bed time. But it's not easy.... The best idea coming up so far has been to attach a softer spout (3 months +) to a bigger cup (6 months +). We bought

Avent sipper cup for 6 months + (200ML)

and replaced the spout with a 3 months +.


Arata happily took milk from the cup on the first day. But that's it. He was on strike for a couple of days after and now he is only using a bottle again... Well, probably it's not a big deal as long as he takes milk? I may try again in a couple of weeks time.