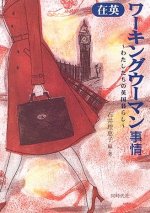 今日でアラタは1歳半になりました。



一年ほど前にみちこさんのご紹介で、英国での日本人女性の仕事から恋愛までの現実を本にしたいという、物書きの石井理恵子さんのインタビューを受けた。出来上がった本

『在英ワーキングウーマン事情』

は在英日本人女性15人の個性豊かなエピソードが満載。


私はどうもコンセプトを誤解していて、以前としさんのサイトに連載していたような「恋愛」話しばかりしたような気がする。でも、こうして活字で読むと、海外脱出して以来の生き方がパワフルで素敵にみえるから不思議。さすが、プロの理恵子さんの力量。らっきょが言っていた、「ちろさん、やる時はやるのねえ。」そんな印象が残る?(シャツの下からお腹が見えちゃってる写真がちょっと恥ずかしいけどね!)




Arata is one and a half years old today.



About a year ago, I was interviewed about the life in the U.K. by a Japanese writer, Rieko. She is a friend of Michiko and she was writing a book about Japanese women living in the U.K.

The book

has been released. There are 15 Japanese women in the book and each has a very unique and dynamic experience and life. When I read about my part, my life since I left Japan in the early 90's, in the form of a 'book', it looks not as bad as I thought.