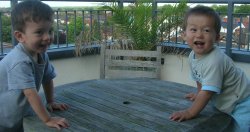 1週間程前から、単語を二つ並べた発話もするようになった。「ダディ ねんね」「ダディ シャツ」など。今日は私が肩痛で湿布を貼っていて、「ママ、肩が痛いのよ」と話していたら、「ママ いたい。」午後はトーマとゆうこさんが遊びに来た。相変わらずトーマの持ってるものを何でも力ずくで取ってしまうアラタだが、「トーマにこれあげて」と言うと、ビスケットぐらいなら「トマ!」と甲高い声で言いながら渡すことも少しはできるようになってきた。(自分が食べたくないビスケットだけだけど…。)
今日のニンプ日記はコチラ。


Arata has started to speak with 2 words since a week ago. "Daddy nenne (sleeping)" or "Daddy shirt" etc. My left shoulder was stiff and a medicated plaster was covering it this morning. I explained Arata that mummy had a shoulder ache. Then he started to say, "Mama Itai (painful)." Thoma and Yuko came in this afternoon. Arata still tries to take away whatever Thoma is holding. But he has also learnt to give Thoma something when I ask him to give Thoma. Well, they are usually only biscuits Arata doesn't want...
Click here to go to "The baby No. 2"