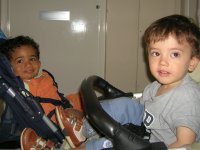 Josieのうちへ。アラタは久々に会ったルークに見向きもせず、勝手におもちゃを引っ張りだしては遊んでいる。


Josieが「マミィがもうすぐ赤ちゃんを産むね」と言うと、アラタは「ベイビー」という単語に初めてまともに反応。常々私は自分のお腹を指しては「ベイビーがここにいるよ~」と言っているのだが、アラタといえば、私の真似をして自分のシャツを引っ張りあげておへその辺りを触ったり、赤ちゃんの写っている雑誌の表紙を指差して「バビ」と言ったりだった。


この日は、Josieの言葉に対してアラタは私のお腹を指差した。Jasonが最近
『Za-za's baby brother』
という絵本を買ってきた。弟が生まれる前後のちょっとした変化を書いたメイシーちゃんシリーズの作者Lucy Cousinsの絵本。アラタも少しはわかってきたかな?


We went Josie's. It's been long since Arata saw Luke but Arata went straight to Luke's toy box and started to play....


When Josie said, "Arata, mummy is going to have a baby soon," Arata pointed to my bump for the first time. I've been telling him that a baby is in it, pointing to my bump. But his reactions so fare have been either pulling his shirt, copying what I'm doing, and touching his tummy, or pointing at a photo of a baby in a magazine, saying, "Babi!"


Jason has recently bought a book
'Za-za's baby brother' by Lucy Cousins.
It's a story of Za-za having a little brother. Arata has started to realise what's going to happen to him?