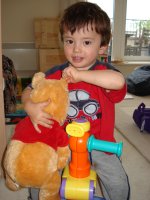 なおみが日本から遊びに来て、うちはかなりにぎやかになった。アラタは4人の大人に囲まれてスポイルされ気味。なにしろ必ず誰かのアテンションがある。Jasonと私だけになって、弟が増えたらどうなるのかしら?


おばあちゃんと二人きりになることにも大分慣れてきた。今日はなおみとロンドンに出かけたが、アラタはおばあちゃんとお留守番。お昼寝もたくさんしていい子にしていたようだ。予定日まであと3日。今のところ気配なし。


Naomi has been staying with us since Thursday. Arata is getting a bit spoiled by being surrounded by 4 adults. He always has someone's attention. I'm a bit worried how Arata will behave when everybody has gone back and only Jason and I have to look after Arata plus his brother....


Arata has got used to being only with his grandma. Jason and I took Naomi to London today. Arata seemed to be a good boy and he even had a long nap.


It's 3 more days to go till the due date. But no signs of the baby coming out.