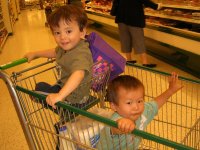 音楽クラス

Kindermusik

のトライアルにWest Byfleetへ。予想通りアラタは全くじっとしていなくて、部屋のカーテンでかくれんぼ。その後Byfleet Villageのソフトプレイエリアで遊ぶ。こういうい場所だと、一人で遊ぶので楽。年上の子供におもちゃをとられそうになっても、キーッと叫んで絶対に手渡さない手ごわい子供に成長している。


今日は音楽クラスからランチ、買い物までトーマが一緒だった。興味深いのは、友達も同じ事をしていると意外とアラタもおとなしくしているということ。ベトナムレストランではお行儀のよいトーマを見習って、ハイチェアから逃げ出そうと試みずかなり長く座っていたし、買い物中もいつものように騒ぐことなく、トーマと二人でおとなしくカートに収まっていた。


Jasonと久しぶりにデート。ミュージカル

『Guys and Dolls』

を観た。映画『ダーティダンシング』や『ゴースト』のパトリック・スウェイジがNathan役で出ている。ミーハーな私は一番高いチケットを購入。彼は50歳を過ぎているけれど、相変わらずセクシーでダンスは上手でした。2番目が産まれる前にもう一回ぐらいJasonとデートしたいなあ。


We went to a music class

'Kindermusik'

trial in West Byfleet. As expected, Arata didn't sit still with me to participate. He kept walking around in the room.... We then we went to a soft play area in Byfleet village. It's much easier for me when Arata is in this sort of place because he just plays on his own without my interaction. I discovered today that Arata never gives away the toys he is holding even to a bit older children. He usually makes squealing noises and most of the children just go away.


From the music class till lunch and shopping, Thoma was with us today. It's quite interesting to see that Arata behaves ok when he has company. At lunch, we went to a Vietnamese restaurant. Arata was sitting in a high chair for a long time with Thoma sitting next to him. (Arata usually doesn't sit in a chair for the whole meal.) And at the supermarket, Arata didn't try to make noises to make us let him out of the cart, which usually happens after 5 to 10 minutes. Arata was happily sitting in the cart with Thoma.


Jason and I had our first night out for a long time. We went to see a musical
'Guys and Dolls'.
I've really wanted to see it as Patrick Swayze, the actor who was in the films 'Ghost' and 'Dirty Dancing', was appearing as Nathan and I bought the most expensive tickets. He is already over 50 but still sexy and good at dancing! Hopefully, Jason and I will be able to go out at least one more time before the baby is born.