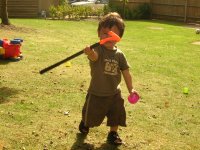 タンブルトッツのトライアルに行った。

Tumble Tots (タンブルトッツ)

は、歩けるようになってから学校へ行くまで(4歳)の子供が対象の運動プログラム。上ったり下りたり、くぐったり、バランスしたりと、幼児向けの体操クラスみたいで、保護者(孫の面倒を見ているおばあちゃんも何人かいた)も一緒に子供の手を引いたりしながら参加する。


子供向け平均台みたいのはさすがに手を貸さないと危なっかしかったが、あとは簡単過ぎてアラタには物足りないんじゃないかと思ったけれども、パワー全開で遊んでいた。途中、休憩もかねたお歌の時間有。プレイグループにあるように、保護者と子供が輪になってちょっとしたダンス+歌を歌うのだが、この時間がアラタにはだめだった。どんなに歌に引き込もうとしても、彼一人だけ、歌には見向きもせずに、キャッキャッと上ったり下りたりし続けていて、私は冷や汗…。

Wokingでは、Goldsworth ParkのLakers Youth Centreで水曜日の9時半から45分間。インストラクターの人が数人いて、子供に手を貸してくれたりする。保険を含めた1年間の入会金が20ポンド(約4000円)で、7回コースで34.30ポンド(約7000円)。続けるかどうか検討中。

日本にも教室があるようだが(日本語のサイト)

やけに高いなあ。

We went to
'Tumble Tots'

trial. It's "designed to develop children's physical skills of agility, balance, co-ordination and climbing, through the use of brightly coloured Tumble Tots equipment" and for me it was like a gymnastic class for toddlers and parents (some are with their grand mums!) are participating with them.


When it came to balance beam sort of activities, I had to hold Arata's hands but others looked quite easy for him. I felt it was not challenging enough for him, although Arata looked totally enjoying it. In the middle of the session, there was a 'song time', everybody sit in a circle and sing along, like the ones at play groups. And it was something Arata wasn't interested in at all. He was the only one who kept moving around the gym. I tried in vain to pull him to the singing circle.


We haven't decided if we will join the class yet. It's held at Lakers Youth Centre in Goldsworth Park on Wednesday from 9.30 for 45 minutes. 34.30 pounds for a 7-week long course. Plus a year membership fee for 20 pounds including insurance. According to the Tumble Tots web site, there is apparently a class in Japan but it seems to be really expensive!