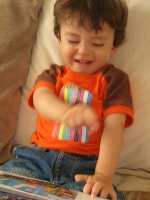 昨日は不快で寝付けず、もしや…と思ったが、朝からKindermusik、ジョージーの家と、一日中忙しかった。お腹の辺りにいつもと違う感覚があるから、そろそろかなあ。いや、月曜まで出てこないでほしい。ここまで来たら帝王切開したい。


アラタは絵を指さして「なに?」と聞いたり、手に持っているものを周りの大人に一人ずつ差し出し「続け」て、ものの名前を確認して言葉の習得をしている。英語と日本語、両方わかっている言葉もあるようだけれども、ほとんどの場合、発語するのはどちらか一つ。


可笑しいのは、アラタの頑固さ。先日も、車の写真を見て、なおみが「自動車」と言うのに、アラタは「カー」と言って譲らない。二人で「自動車」「カー」「自動車」「カー」…と、しばらく押し問答。この写真も、本の中の写真を指さして、私になんだか言わせていたのだが、「バス」と言ったのが気に入らなくて、アラタは「ローリー」だと主張、むきになっているところ。


I felt so uncomfortable last night and couldn't sleep properly. I thought it was going to happen.... I felt better this morning and we spent a quite busy day going to Kindermusik and Josie's house. I still have a bit of funny feeling around my bump. Well, I rather prefer to have a c-section on Monday. Please don't come out!


Arata often points at an object and says, 'Nani? (What is it?)' Or he keeps showing the same object to each adult for the name, in order to confirm the name of the object. Arata probably understands some words in both English and Japanese, but he usually says only one of them.


And it's quite funny to see how staborn he is. When Naomi was saying, 'Jidosha ('car' in Japanese)' pointing at a photo of a car, Arata insisted it was a 'car'. Neither of them gave in and they kept fighting for a while saying, "Jidosha!", "Car!", "Jidosha!", "Car!".... In this photo, Arata insisted one of the photos was a 'lorry' and not a 'bus' as I said.