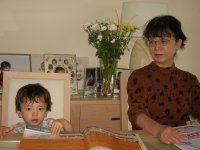 まだ妊婦。昨晩はJasonと慌てて赤ちゃんの名前を考えた。アラタの名前は早くから決まっていたことを考えると、夏休みの宿題みたいで、次男ってちょっと可哀想?


英名をファースト、日本名をミドルということだけれども、駆け込み決定した英名よりも、日本名の「宝」の方をファーストに昇格させてあげたい気分。でも、Jasonによる、タカラ・ラムニーと「ラ」が続くのは舌を噛みそうだから却下っていう理由は、日本語の「ら」よりもっと舌を巻いて発音する英語だと深刻な問題らしい。


今日は、New Malden でランチ。New Malden のコリアンレストランは、まるで韓国にいるかのようにキムチやナムルが突き出しとして出てくるから、いつ行っても幸せな気分に。


I'm still pregnant. We chose the baby's name last night. Thinking about we decided Arata's name quite early, I feel a bit pity for the second child because it's like home work of summer holiday - you only finish it in the last minute.


Personally, I feel like promoting the Japanese name, which I decided much earlier than yesterday, to the baby's first name because I took time to find it. But according to Jason, 'R' sounds one after another like in 'Takara Rumney' would be a more serious problem than we, Japanese, think. In English, they pronounce 'R' much heavier, rolling their tongue more, than our Japanese 'R' sound and it will be really a tongue-twisting.


We went to New Malden to have lunch at a Korean restaurant. I like having Korean in New Malden as Korean restaurants over there give us several plates of Kimchi or Namul for free of charge as if we were in Korea.