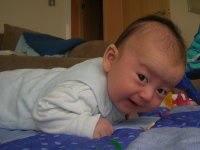 タカラは生まれた時からふにゃふにゃ度が低く、一ヶ月もしないうちから首が据わってるんじゃないかと勘違いするほど体がしっかりしている。当然アラタの時と大違いで、腹ばいにさせてもへっちゃら。(アラタは長い間苦手だった。)この調子だと、アラタよりかなり早く寝返りをするかもしれない。それはそれで面倒くさい。動かないで寝ていてくれるのは楽だもの。

この写真はアラタが12週の頃、やはり腹ばいをさせてみた時。

一瞬で写真を撮らないとすぐに泣き出していたが、タカラはぜーんぜん大丈夫。


今日はクリスマス前の最後のナーサリーだったので、アラタはいろいろな『作品』を持って帰ってきた。手型足型で作ったクリスマスカードとカレンダーはいい記念になりそう。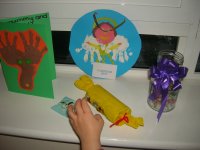 Takara's neck has been strong since he was born. Compared to Arata when he was about the same weeks, Takara has much stronger muscles. Arata hated to lie on his tummy until quite late but Takara finds it no problem! He may start to roll over much earlier than Arata did. Well, it will be good and bad news because it's much easier for me if he just lies down in the cot and doesn't move much!!

This photo was taken when Arata was about 12 weeks old. We had to take this photo quickly otherwise he would start to cry soon.

Of course, Takara isn't like his brother. He can stay on his tummy happily.

Today was the last day for Arata before Christmas to go to nursery. He brought back lots of his works for Christmas. They are calender, Christmas card for mummy and daddy, Christmas cracker, candle stand and a small packet of present. Christmas card and calender have his hand and feet impressions on them and I believe they will be something good to remember our Christmas this year.