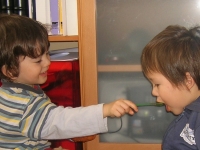 タカラの予防接種最終回。今までやった5種+1+1(ジフテリア、破傷風、百日咳、ポリオ、髄膜炎B、脳膜炎C、肺炎球菌)のブースターなので、計3本。来週の一時帰国に備えて、今日の予防接種を延期したくなかったから、どうしても風邪の家庭内蔓延を防ぎたかった。が、Jasonもアラタも期待を裏切ってくれた。当然のようにタカラも2日前から咳と鼻水・鼻詰まりがひどい。


熱がなければ大丈夫と言われることは百も承知で「風邪を引いている」と看護婦に言ってみた。もちろん無駄な質問だったけどね。それにしても、タカラは、予防接種の度に風邪を引いている。風邪を引いていると負担が大きくなって余計につらいと思うけど…。ふと、

アラタの時のブログを読み返すと、

風邪だからって注射を延期しているじゃないの!アラタは生後半年は風邪を引いてもマイルドだったので、この時の風邪だってほんの鼻かぜだったはず。アラタは慎重に育てられたのねー。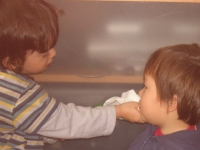 イタリア人(のJosie)が日本人(の私とゆうこさん)を和食ランチに招待。料理好きJosieのフュージョン系ジャパニーズはなかなか素敵だった。私にはとても日本食で友達を招待なんてできないから尊敬しちゃう。子供達はパスタを食べていたのだけれども、トーマの残りまで食べようとするアラタは、「トーマにも食べさせて」と言われると、本当にトーマにフィードし始めた。一口食べさせる度に「おいしいね」と言いながら。お口の周りもティッシュで拭いてあげて、すっかりお兄ちゃんぶっていた。タカラの離乳食開始まであと2ヶ月よ。頼んだぞ、アラタ。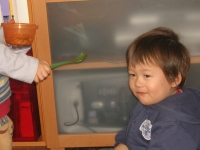 Takara's last set of initial immunisation jabs. They are all booster of the ones he had before (Diphtheria, Tetanus, Whooping Cough, Polio, Hib, Men C and PCV) and he had 3 shots! I hadn't wanted to start cold to spread in our family because we are going back to Japan next week, and also I didn't want to postpone today's immunisation. But without knowing my concern, Jason and Arata have caught a cold in very bad timing. Of course, Takara has started coughing with blocked & runny nose since 2 days ago.


As Takara didn't have any temperature, immunisation went ahead. Takara always has a cold when he has jabs. It must be tougher for him if he's got a cold.

I just had a look at my weblog when Arata had his 3rd injections.

To my surprise, I postponed it as Arata had a cold. I'm quite sure that it was a very mild cold because Arata didn't have a bad one at least in the first 6 months. I must have been very careful with Arata or the first child...


An Italian (Josie) invited Japanese (Yuko and I) to a Japanese lunch at her place. She loves cooking. The food was nice and the presentation was 'Modern European' style. Shall we call it 'Fusion Japanese'? Children were eating pasta and when greedy Arata tried to eat the leftover of Thoma, Yuko suggested Arata feeding Thoma and surely he did! After each spoon, Arata said, "Oishii ne (it's tasty, isn't it?)." He even wiped Thoma's mouth with a piece of tissue. Arata behaved as a big boy! Arata, it's only 2 months to go till Takara starts to wean. I'll count on you!