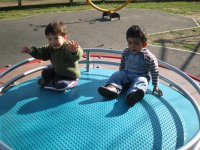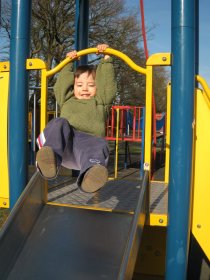 今日は理想的な暖かさ。ルークとプレイグラウンドへ行った。おとなしいルークと一緒だとつい、アラタの「猿度」が目立つ。この写真は、アラタが「ふね」と呼ぶ、回る乗り物。動き出すと、両手を上げるアラタ。この後、シーソーでぎったん、ばったんしている最中に手離しした時には思わず「落ちるよ!」って叫んだ私。(意外と落ちない。)そして滑り台を滑る前に必ずこうやってぶら下がってみる。いやー、ママは寿命が縮まるよ。


そして今日はアラタは一人でお風呂に入った。「おふろ はいらない」と譲らなかったのだけれども、「一人で入ってみる?」と聞いて興味を示した瞬間に速攻でお湯を張ったバスタブに入れてしまった。怖がる様子もなかったので、私が外から体と髪を洗って上げた。


Jasonが帰ってくると走って迎えに行って、「あらた じぶんで おふろ はいった」「あらた 目 つぶった(髪の毛を洗って流す時に)」と嬉しそうに報告したようだ。一人で入ってくれると楽だわ~。


It was a beautiful day and we went to a play ground with Luke. As Luke is a quiet type, Arata looks very 'monkey' when he is with Luke. Today was no exception. When Arata and Luke were on the 'boat', Arata called this round shaped ride as a 'boat', and it started to move, Arata raised his hands. When Arata and Luke were on a see-saw, Arata again stopped holding onto it and put his hands up. I shouted, "You will fall!!" (But he didn't. He was actually quite good.) And each time he slid down the slide, he hung onto the bar above and swung himself first... I am going to have a heart attack!


He had a bath by himself today. He insisted he didn't want to have a bath but when I suggested he should try on his own, he showed a interest. I quickly undressed him and put him into the bath. He looked happy and I washed him from outside.


When Jason came home, Arata ran to the entrance to meet him, and said, "Arata had a bath by myself. I closed my eyes (when mummy washed my hair.)!"