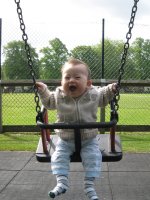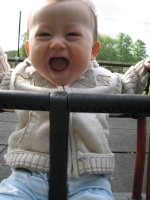 昨日。午前中、公園でアラタカラを遊ばせ、午後は彼らを連れてロンドンまで。会社に遊びに行った。夕食後はジムでステップ。張り切りすぎた一日だったからかな、今日は朝から頭痛。タカラの初Kindermusikクラスから帰ってくると、一緒に昼寝。気が付いたらもう5時で、アラタをナーサリーに迎えに行く時間だった。


偏頭痛には欠かせない薬のイミグラン。授乳中は乳児への影響が不明ということで控えるのが普通だけれども、6ヶ月を過ぎてから、偏頭痛で2日間近く吐きまくり、機能しなくなるよりはと、飲んでしまっている。もちろん、一月に一回一錠ほどだが。


アラタの時は薬を飲んでも慎重におっぱいを搾乳&破棄、粉ミルクを上げていたが、今回はそれもしていない。オーガニックに気を使っているわけでもないし、コーヒーやワイン、ジャンクを食べたりもするから、母乳に悪いものはとっくに摂取しているだろうという勝手な見込みで自分を納得させて・・・。


Yesterday. I took Aratakara to a play ground then went to London with them to SCS to see my colleagues. After dinner, I went to the gym to attend a 'Step' class. When I woke up this morning, I had a slight headache. Probably I did too much for one day yesterday. But still, Takara and I went to his first Kindermusik class. After lunch, we had a nap together and when we woke up it was already 5 pm, the time I had to go to pick Arata up from nursery.

Imigran is my medicine to combat migraine. During breastfeeding, we usually avoid it as the effects on babies are not known. But since Takara turned 6 months, I've started to take it again. Or I usually suffer very severe migraine and can't do anything for nearly 2 days. Of course, about once a month and only one tablet each time.

When Arata was still a baby, after I took Imigran, I expressed and discarded breast milk, gave him formula for a day. But this time I haven't done it to Takara, I keep breastfeeding him. I'm not the type of person who always looks for "organic" and I eat or drink without carefully avoiding lots of stuff, coffee or wine or junk food etc! So, my excuse is I've probably already had something bad for breastmilk anyway.