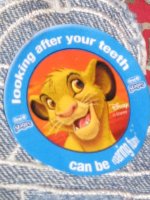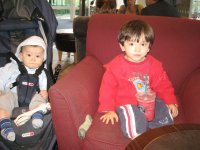 OasisDentistへ。産後1年間はNHSで歯医者も無料なので、NHSの患者として歯科検診。そして、アラタも初の歯科検診。


怖がるし騒ぐだろうなあと心配だったが、歯医者さんの「あーんして」「イーして」に素直に口を開いていたのにはびっくり。もっと驚いたのは、アラタの検診、2秒で終わり?「はい、問題なし。次は一年後に来てね。」思わず私も、「これだけですか?」


頑張ったねシールをもらって、嬉しかったアラタは、「ダディに見せる」と、大事に大事に、Tシャツのシールを押さえながら帰ってきた。この写真は、途中でスタバで休憩しているところ。この後、脱いだジャケットにシールがくっついてしまい、シールがなくなったことに気が付いたアラタは「スティッカー!」と大騒ぎ。そんなに大事だったのに、家に帰ったらダディにも見せずに忘れてしまっていた。は~、子供って・・・。


Went to Oasis Dentist for check-up. I have free NHS dental treatments for a year after having a baby. Arata also had his first check-up.


I was anxious about Arata's check-up from the morning as I knew Arata didn't like it and he would scream to resist. But surprisingly, Arata was all fine. When the dentist said, "Open your mouth, then, say eeeee," Arata just did it. But most surprisingly his check-up lasted for only 2 seconds! "Everything is ok. Come to see me in a year time," he said. "Is that all?" was what was coming out from my mouth!


Arata got a sticker of a brave lion from the dentist. He was very proud of it and said, "I will show it to daddy." He was then putting his hand on the sticker to prevent it from coming off his shirt on out way home. We stopped at Starbucks for drinks. After being taken this photo, when Arata took off his jacket, the sticker came off and sticked to the jacket. Without knowing it, Arata was crying, "Sticker!", when he found it was missing on his T-shirt. After we came home, Arata apparently lost interest in it and he wasn't even keen to show it Jason. Phew... children are....