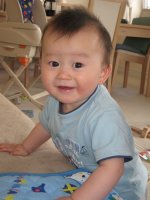 アラタに風邪をもらったタカラは咳と鼻水で悲惨。今朝起きてみると、頬と目の辺りが広範囲で赤くなって、少し腫れもあった。風邪とは別物で、何かのアレルギー反応かもしれないという疑いが・・・。ここ1ヶ月近く、タカラに耳切れ(耳の付け根が切れたようになってじくじくする)があって、最初はなんだかわからなかったが、アトピーの子供に多いらしく、どうも怪しい・・・。


腫れは午後までには引いたので、ウイルスによる一時的なものだといいなあと思う。ネットでアレルギーのお勉強もしたけれども、3大アレルゲンの牛乳、卵、大豆。私は昨日全種食べたから、もしかして母乳から?うーん、面倒くさいことはやめてよ~。


念のためGPへ。耳の中は少し赤いが、喉は腫れていない。風邪をひいたことで元々ある湿疹が悪化したのだろうという診断。湿疹の原因であるアレルギーに関しては特に指導も診断も無しなのは予測通り。こういう時、日本の医者にかかりたくなる。


Takara's got a cold from Arata. He is quite miserable with runny nose and coughs. When he woke up this morning, I was shocked to see his cheeks and eyelids were red and puffy. After searching on the net, we suspected it's nothing to do with the cold he has but some allergic reactions. The bottom of his ear lobe has been weepy and red as if it had been cut. This is one of the possible signs of atopic eczema.


The puffy bit was gone by the early afternoon and I really hope it was caused by some sort of virus. I studied lots about atopic eczema and allergy on the internet. I ate eggs, soya bean (tofu) and milk yesterday. Takara may have reacted to my breast milk....?


I took him to GP to be on the safe side. His ear drum was a bit red but not bad. The doctor said Takara's eczema may have worsen by some virus and advised me to apply some moisturiser on his face. Of course, he didn't mention about allergy or atopic eczema at all. I wish we were in Japan now so that I could take Takara to a skin specialist...