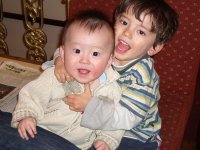 残りの産休生活、運動しようと思い立つ。1ヶ月ほど前から託児所付きのジム、LA Fitnessに通っている。David Lloyd の方がプレイエリア付きのカフェもあってオススメだが、託児所の中が年齢別に分かれているのでやめた。人に預けられる事に慣れていないタカラはアラタと一緒の部屋でみてもらえる方が安心。


入会直後の月曜日にアラタカラは託児所デビュー。迎えに行くと、アラタは楽しそうに遊んでいたが、タカラは「何で置いていったんだよ」という顔をして泣き出した。数日後、タカラだけを預けてみたが、やはり恨まれたのでそれ以来託児所は利用していない。2人を2時間預けてたったの7ポンド(約1400円)だから安い。でも、気が向いたら行って預けられる程定員が多くないので、なかなか利用できないのが現状。


結局、夜、Jasonに子供を預けて行くのがメインになった。車で直行直帰すると、1時間20分家を空けるだけですむから悪くないし、エアロビクスとかステップとか、音楽にあわせて運動するのは本当に楽しい。私のお気に入りのクラスは火木のボディステップ。ロンドンのシティ(金融街)のジムにはエアロビ系でも男性がいたが、ここWokingでは、女性しか見かけない。そして、会社帰りのOLよりも、ダンナに子供を任せて来ている母の方が多そう。


私がジムに出かけようとすると、「アラタもジムヘいく。」託児所で遊びたいってことだけど。(写真は少し前にかわのが撮った「あらた おり だっこ」の場面。)


I've decided to join the gym in the rest of my maternity leave and have been doing for nearly a month. The LA Fitness nearby has a creche. I went to view David Lloyd, too. They have a big nice cafe with a play area and their creche is huge. But I decided to join LA as at the creche, I can leave both Aratakara in the same room, Takara would be doing better with his big brother, I thought.


I took them to the creche for the first time on the following Monday I joined the club. When I went back to pick them up, Arata was playing happily. But as soon as Takara saw me, he started to cry as if he was saying, "Why on earth did you leave me here!" A few days later, I left only Takara, but with the same result. I haven't used the creche since. It costs only 7 pounds for 2 kids up to 2 hours. It's a bargain. But it's not as convenient as I thought as the space is limited and it's not quite possible to just pop in to leave them and go to the gym.


I mostly go to the gym in the early evening after Jason finishes his work. If I just go to attend a class and come straight home, it takes only less than 1.5 hours. Not bad. I love aerobics or step classes. Moving my body along some music is such fun. My favourite classes so far are body step on Tue and Thurs. I always saw a couple of male in aerobics type of classes when I would go to the gym near the city in London. But here in Woking, I've only seen women. It's always a mixture of those who come to the class after work, and mothers who leave their children to their husbands!


When I am leaving for the gym, Arata says, "Arata is coming to the gym, too." Of course, he wants to play in the creche! (This is a photo taken by Kawano a few weeks ago. Arata was cuddling Takara.)